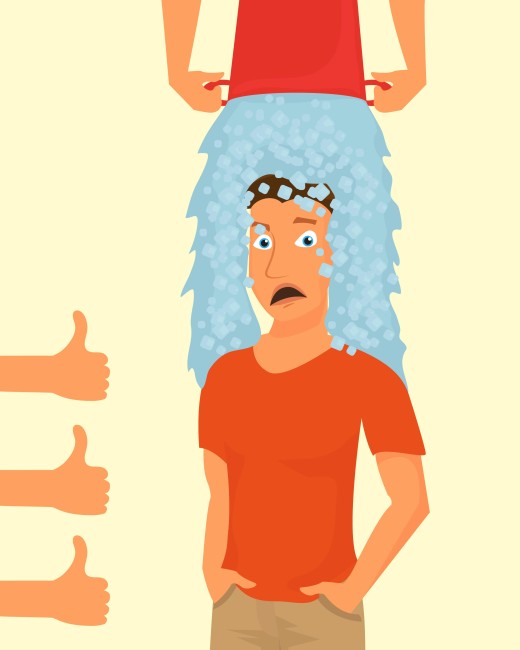 — Pratima H
Even before some celebrities were gutsy enough to dodge the bucket and drought-suffering people in Henan China or California picked up empty buckets to mock the charity-pail we did chew our share of wonder and disbelief at the pace with which this new fever has grabbed the world the last few days.
If you have been able to scroll even five tweets or flip one TV channel before bumping into the picture or video of another celebrity or movie star taking the gauntlet, thank your stars, you have been spared. Because otherwise, it's really tough to stay dry before the words 'I challenge these three people to take the Ice-Bucket challenge' splash all around you. Not that we are
complaining, when we get to see a handsome Pattinson or feisty Timberlake or amazing Bezos wipe some ice.
But sitting in the sweltering, tropical and always-up-for-some-ice land like India, our first reaction was 'Wait, is that really a punishment'? The second reaction that slowly froze the first one over was – But why is this chain still going on?
Shower in curiosity a little more and you might be able to spot the fact that this is not some viral game that has got Hollywood and now Bollywood smitten, but actually some charity drive started for the ALS Association, a non-profit organization fighting Lou Gehrig's Disease or ALS, a progressive neurodegenerative disease that affects nerve cells in the brain and the spinal cord.
Now the organization took its roots in 1985 but it was this year that got the torrent of attention and financial support it was looking for. Isn't it intriguing how in as few days as between July 29 and August 12, the ALS Association and its 38 chapters could reach $4 million in donations compared to $1.12 million during the same time period last year?
What makes the idea of pouring water with a generous helping of ice worth the effort or those two minutes? In a world where people have hardly any time to read out even the full form of  ALS (which is for Amyotrophic lateral sclerosis by the way)?
Is it because people quintessentially never grow up? Especially when it's about watching a frenemy throw in the towel to a feat you have accomplished like a true Spartan? Or it could be consummation of all the real play we have been missing from our gadget-hijacked lives?
Wouldn't we rather prefer signing a cheque or tossing some coins into a busker's can at the train station? Or is it the other way round? We might like a bit of fun or sporti-ness display or audacious name-dropping as we jingle some pennies for a cause.
That brings us to the bigger bucket list – the missing veins that social awareness issues fail to touch because of one seemingly 'come-on-it-can't-be-the-reason' and innocently-innocuous factor . But let's face those words – Lack of Right or Enough PR!
You can open up this acronym in as many ways as possible – call it marketing varnish or cosmetic gimmicks while we label it as the big void on generating excitement or passion for a cause.
After all, shoulder-rubbing itself can be the thing to goad someone carrying a big chip on his/her shoulder. Hasn't every marketer worth his salt or sugar used these tricks to hawk all those chips, colas, TVs, phones, cycles, cars, fairness creams, birth control pills, pickles, biscuits, Mars-trips and what not?
Guilt, Reward, Sex, Anger, Sympathy, Tears, Laughter – all these appeals work like a wheel of pony horses carrying one product and then another in the park called advertisements.
Almost all brands piggyback on these appeals to earn some brownie points or attention-slices over their rivals. Why do social causes then still depend on pity or serious Freudian underbellies to a large extent? Why can't they make 'giving' or 'waking up' or 'changing a bad habit' more fun? Or more empathy-driven? Or more interactive? Less class-room style? Less of an unpleasant guilt-ridden homework? Less of 'being told'?
'Fun' brings the run
Ice Bucket challenge for one, shows the playground power and 'look, can you do this' poking and its impact on the main goals of awareness or support. The latest count tabs the donations at
$94.3 million so far and what really stands out, in the very words of Barbara Newhouse, President and CEO of The ALS Association – "We couldn't be more thrilled with the level of compassion, generosity and sense of humor that people are exhibiting as they take part in this impactful viral initiative."
When people 'take part', when they have a chance to 'laugh' at something and are not hauled over idealistic scruples, when they can enjoy and learn something totally refreshing, or when they can look at something with a mysteriously beautiful angle, then the 'cause' becomes a 'be-cause'.
With all that, or just for a change, a cause-marketer can also try grabbing the right pulse of the intended audience sometimes, no matter how not-so-nice it seems to be. As long as the nail hits the hammer or vice versa. It's all about insights – how people think, and function in practice?
As a poor-bucket-challenged victim noted in an article lately, the bucket challenge allows the star-league to show off their palatial homes and boast about all the famous people who happen to be their chums. At the same time these celebs could add the factor of how much fun and philanthropic they are.
Marketers, especially those peddling a cause which is not necessarily a cinch and takes effort or time for the pursued, have to open their eyes to all those elephants jaywalking in these rooms.
Selling the bitter Chewing Gum
Let's face it. People are crunched for time. People, at least not all of us, really care a fig unless it affects us in some way or some day. People are also not easily malleable when it comes to guilt or responsibility for the less-privileged in this era.
So can you just expect to sing an elegy or serenade and gather all those tissues or footwork?
Won't it be better to let needles of piercing fun or some sharp, never-before, almost-vicarious epiphany tear through that tough hide people wear?
A recent award-winning campaign for planting more trees shows how urging people to be more green-aware need not be all pedantic and boring.
The NGO – BUND Friends of the Earth Germany used the creativity of Agency Ketchum Pleon, BBDO Proximity and together planted a rut-breaking idea for support for the preservation of trees and donations.
They started with asking one, simple, right-on-the-nail's-head question first. If a tree falls and no one is around to hear it, does it make a sound?
Then they tried it this way: "What if trees made sounds that everyone heard – would fewer trees fall?"
What happened next was a story in itself as a nearly 100-year-old chestnut tree was transformed into a street musician to play music in a Berlin park with the help of a construction of
membranes installed underneath the tree. So every time a chestnut fell, the bounce changed into beautiful sound sequences and led to a harmonious concert with the wind and the creaking of the tree. But this very organic sound was amplified with dynamic light effects and made into a Tree Concert of sorts. In fact, as visitors flocked and donated, they were rewarded with music and more. So if someone sent in their donation and name by text, the tree would thank the donor through a personal greeting that appeared on the membrane.
Talking of whether it worked or not, yes it did with 500 visitors coming to the concert every day and BUND receiving a 54 per cent increase in donations for the corresponding period.
Now sample something extreme. When as an NGO you know that there are thousands of pedophiles fuelling the abominable web child sex tourism industry all over the globe, but find only as many as six men being charged while thousands of children suffer atrocious acts behind web cameras – what can you do? Push the envelope. Tear it may be.
This is  precisely what Dutch agency Lemz's 'Sweetie' attempt did , as it helped the children's charity Terre des Hommes trap pedophiles, red-handed and with nothing more than a 3D avatar of a child. Sweetie, as they called this ten-year old girl avatar from Philippines, was a savvy bait for predators and helped authorities identify 1,000 offenders in a very short span of time.
Extremes continue to invade cause-marketing world more than ever before when we saw how agency AMV BBDO tackled the problem of youth violence and murders in London by using this who-dun nit style online plot or game to educate teenagers about the legal alley called Joint Enterprise.
The insight was simple – Teens who are on the periphery of crime are surrounded by weapons and see them as normal.  But translating this and making teens aware about its serious ripples was not simple.
How do you teach them the principle of Joint Enterprise that states that if you are connected to, or have knowledge of a crime, you can be charged for it?
So they tried the route of an interactive murder mystery for Facebook, about the murder of a boy called Deon, with six films, each featuring a different role that led to murder.
On guessing a suspect, the viewer would get to watch the role the character played, and each film ended by explaining that the character did not kill Deon but was charged under Joint Enterprise because of the role they had played and this helped drill the whole concept in an interactive, deep-engrained way for teenagers.
As the campaign hit 135,371 unique visitors on the Facebook page, 4.5 times more than estimated, it did so at a cost per user of £1.33 vs. £6.04 as originally budgeted.  What it did was brilliant –  45 per cent of 13-15 year-old Londoners recognized at least one element of the campaign the audience understood the complex Joint Enterprise message, with 59 per cent agreeing that, "You can be charged with murder even if you didn't actually kill someone," and 39 per cent agreed, "If you are with someone and they commit a crime such as murder, you too could be arrested and charged."
Behaviour-Shopping
Creativity is twisting itself like a dagger inside the skin and like never before.
Empathy and interactivity instead of a stand-by-er's penny-tossing role is showing much more impact in many recent social campaigns.
Humor and sarcasm are some other vehicles being used. Like the social-farter idea. With 'Quit the Denial' campaign that has been praised and awarded at ad fests already, the Ontario Ministry of Health (MoH) and BBDO Toronto, have simultaneously accomplished behaviour change, a tough gong to chase.
How do you get someone to quit smoking, when they don't think they smoke especially as 'social smoking' is seen as a safe place to avoid assuming a smoker identity?
That's when the campaign used the idea of comparing 'social' smoking behaviors to a range ridiculous activities like farting or earwax picking and communicated a tough message in a we-mean-business way.
As author and behavior change consultant Steven Johnson opines as well, we need to leverage a surge of new research in behavioural economics, social psychology, network theory and cognitive neuroscience to better understand consumers and empower pro-social behaviour change. Effective communication and innovation must start with respect for the people we aim to engage and an understanding of what moves and motivates them, he suggests strongly as he highlights the context of the challenges we face and the more complex values that are emerging.Shouting something from a roof top is not a big task at all. What will separate one cause in a flood of umpteen other ones is whether you can persuade someone to climb all the way to the roof and shout with you.
Sometimes that can take a 3D girl, a singing chestnut tree, a live-on-Facebook murder plot or a bucket full of ice cubes.
NGOs are not doing boring work anymore, then why should their marketing or campaigns smell so?
Get up. Wash off the inertia. Rub some ice.
Whatever you do, just please don't include our names if you are heading for that ice-bucket next.
Or give us time to burrow ourselves. Off we go.