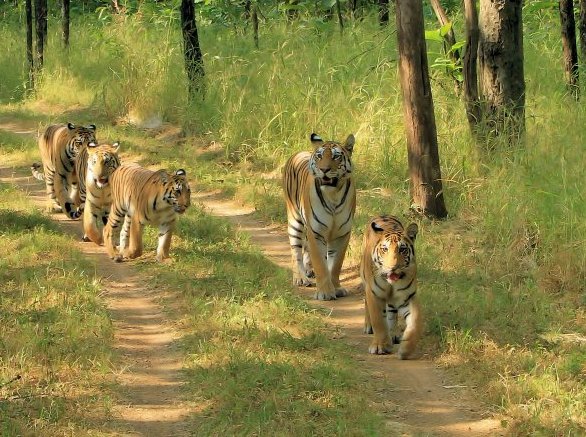 In 2010, a survey in the Kanha-Pench corridor by WWF India, underscored a direct sighting. On any other area, it would have been a moment worth some applause for tiger lovers. But this one also had another reason for researchers and corridor-activists to rejoice. This sighting, reportedly, gave weight to WWF India's conviction that these corridors are being used by tigers that spill over from the surrounding tiger reserves.
They may not be on tiger conservation map a lot but corridors need to be, and are being, given equal importance as protected areas in many ways. They deserve this preferential treatment because they not only prevent tiger inbreeding, facilitate their long-term survival by allowing tigers to move freely between the many tiger reserves; but they also give safety to sub-adult tigers. Since tigers are territorial and are on the look-out for good prey density, those who are elbowed out tend to move out of such territories into adjoining ones. If they step out of the tiger reserve itself or meander in search of other forests where they can survive, it helps immensely if they can have a good forest cover to connect one habitat to another and hence avoid human and other conflicts.
More so, as tigers need large home ranges to ensure population viability, and it is important to ensure habitat connectivity between different breeding areas. That gives a new significance to corridors like the Kanha– Pench one.When one thinks of important habitats for the tiger population in central India, Kanha Tiger Reserve in Madhya Pradesh and Pench Tiger Reserve straddling Madhya Pradesh and Maharashtra emerge as notable ones. Their role in saving the tiger and other wildlife has ceased to be a small one as they assure the long-term survival and viability of tigers by connecting smaller tiger populations in Pench to larger populations such as at Kanha.
In case such linkages are absent, tiger populations isolated within individual tiger reserves can face a higher risk of extinction due to poaching and loss in genetic vigour over generations. Not just that, a tiger straying out of a forest also has to confront a range of challenges. There are hostile villagers, retaliatory poisoning for livestock kills, poaching, and electrocution by live wires, and if that's not enough; there is road and rail traffic that worsens fragmentation of forest cover. So any number of trees planted is a good effort in augmenting the forest connectivity between Kanha and Pench and providing a sheltered corridor for tigers and animals to traverse between the two reserves.
It's encouraging to see corporates like Vodafone India, that along with Grow-Trees.com, the exclusive Indian Planting Partner for United Nation's Environment Program's Billion Tree Campaign, trying in their own ways to improve Wildlife Corridor between Kanha and Pench wildlife sanctuaries. Turns out that have planted 300,000 trees already across approximately 300 hectares of forest and community land over the last 3-years.
This Kanha-Pench afforestation project involved planting 100,000 saplings over 100 hectares of forest land between Kanha Tiger Sanctuary in Madhya Pradesh and Pench in Maharashtra every year for three years. It was initiated in August 2014.
Ashish Chandra – Business Head, M&G, Vodafone India, shares, "Vodafone India is committed to supporting sustainable initiatives that benefit all – the organisation, the community and the environment. This unique project has enabled Vodafone to offset 33 million kg of
carbon footprint generated by our offices. More importantly, we have been able to create livelihood opportunities, enable reforestation and facilitate habitat connectivity in tiger breeding areas between Kanha and Pench reserves. This is a win-win-win proposition for all – the organisation, the community and the environment, exemplifying the true spirit of sustainability."
The company also adds that this project has created about 25,000 workdays of direct jobs mainly for women and tribal communities inhabiting the area besides supporting several allied livelihood generating activities such as farming, fruit and honey gathering etc. on a sustained basis.
As per Bikrant Tiwary, CEO, Grow-Trees.com, said, "Approximately 45% of India's land is degraded primarily due to deforestation, unsustainable agricultural practices, mining and excessive groundwater extraction. More than two thirds of this can be regenerated and our endeavour is to facilitate this by providing planting opportunities to individual and corporate customers. The size and scale of this private corridor reforestation initiative is the biggest till date in the country. The planting process on site has been taken care of by our local planting partner."
That reminds us of a study that also indicated the highest movement of tigers in central Indian landscape. In 'Connecting the dots: Mapping habitat connectivity for tigers', wildlife conservationists scientists Trishna Dutta, Sandeep Sharma, Brad H McRae, Parth Sarathi Roy and Ruth DeFries highlighted mitigation measures such as ecoducts in addressing corridor-related factors.
What's however still worrisome is the rising trend that such forest corridors, which, evidently, are used by tigers, are constantly succumbing to expansion of highways, railway lines, reckless infrastructure development, and mining.
Incidentally, multiple infrastructure projects through Kanha-Pench tiger corridor spread across Madhya Pradesh and Maharashtra; National Highways Authority of India's widening of National Highway-7 through this corridor; the Gondia-Jabalpur railway doubling; the Durgapur open cast mine located near the Tadoba-Indravati tiger corridor and parts that NH6 also cuts – all these have been repeatedly pointed out by media and environmentalists as considerable threats to tiger corridors.
Not so incidentally, as per last tab; Maharashtra said goodbye to 291 leopards and 84 tigers between 2010 and 2017. From what the Wildlife Protection Survey of India (WPSI) spells out, we can thank an increase in construction work, especially corridors through wildlife areas,
rise in road accidents over the years as reasons to exacerbate an already dire situation. Interestingly enough, according to Wildlife Crime Control Bureau (WCCB ) poaching seems to have come down over the past eight years and of the numbers lost, poachers had killed 159.
What's surprising is that unlike the protected area network of tiger reserves, national park and wildlife sanctuaries, tiger corridors are not protected legally. But on many occasions MoEFCC union environment, forest and climate change ministry has taken cognizance of the ecological importance of tiger. There are many more tiger corridors like Rajaji-Corbett corridor and Nagarhole-Bandipur-Mudumalai-Wayanad corridor.
It has become all the more crucial that roads and human settlements and developers, besides authorities that clear projects, do take the latent importance of these corridors into account.
Any effort, like corporate-led afforestation interventions, would be a helpful whisker meanwhile.
– Team SustainabilityO
……….
Ref:
http://www.dnaindia.com/india/report-moef-preparing-guidelines-to-protect-tiger-corridors-2204439
http://timesofindia.indiatimes.com/city/nagpur/NH6-NH7-cut-tiger-corridors-with-highest-movement-Study/articleshow/49622453.cms
http://www.hindustantimes.com/mumbai-news/maharashtra-lost-375-big-cats-since-2010-in-india-s-top-four-in-tiger-and-leopard-deaths/story-gYFwWYuYbto72ELmKJl2vL.html
http://www.wwfindia.org/?5800/tiger-corridors