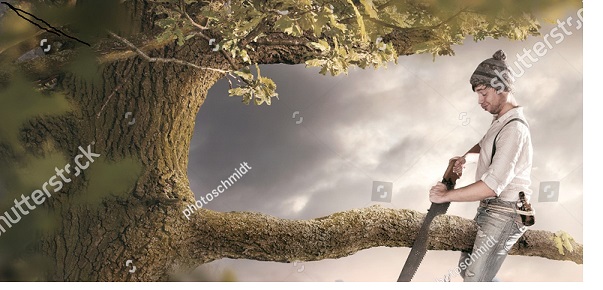 Will we continue to be the incorrigible belly-button generation as the crisis unfolds some unexpected positive side-effects? Or will be learn – for a change?
The pandemic came and it did more than just push a halt-button in our lives. It somehow made us realise how important it is to just 'stop for a while'. Stopping and just letting the things around us happen on their own – that's what some of us started doing in this phase. Eventually, with time, we got to perceive how we are so used to seeing the things around us happen in our ways & how easily we drift away from the reality.
As much as I'd like to see the bright side, let's also face the side that blinds us!
Over a period of time & after seeing the reaction to the lockdown in various sectors, it wouldn't be wrong if we call it a period of 'slowdown". From a glimpse at the state of the economy, demand of workmen & labor, journey of various business and many more areas hint at a path down the hill. Also let's not forget the factor of safety, not just in cities or localities, but many a times at our own homes!
But here is the most fascinating upshot of this phase.
Home Alone – Part 2020
The whole period of Covid-19 changed the way we look at homes & 'home' has become a place that is much more than just a spot to eat or sleep. From just being an investment, it, now, is a place you'd rather want to stay in than go out on a vacation from. More like a place with a pool & a place for barbecue. Clearly, the definition of what turns a house into a home has altered. But with all these aspirations and desires, how do we cope with this change?
It was too soon to say anything at the onset of lockdown back in March, but now we can say that yes, real estate hasn't been spared too!
More or less, the prices of many properties have been stagnant over the last 5 yrs with fluctuations in various cities. With the RBI stepping in and further reducing the interest rates, real estate sector has really been seeing a flux. With the prices so dicey, demand so uncertain, pressure sure has unfolded multiple times on the sellers/agents. Data shows that in the top major cities of India, this year, housing sales have declined by 79 per cent between the month of April & June.
Jobs have also been harshly affected in various sectors, and that's another the reason why home buyers are likely to postpone their property purchase-decisions. Delivery timelines of ongoing projects appear to be pushed a little further due to the delay in supply of construction materials and shortage of labour.
The future of the commercial real estate deals is on hold if we look at the pattern of closure of the malls, retail outlets, entertainment venues, restaurants, etc., majorly due to the whole scenario of Covid 19.
Even if we compare situations from the prior times, this time is the best suited for getting ahead and investing in the real estate seeing favourable conditions like drastic fall in interest rates, Ex- home loan interest rates are below 7 per cent now; and with high exemption from tax. In addition to these advantages, the RBI has also reduced the repo rates to four per cent which reduces the price for borrowing houses. It is also predicted, or, calculated how 2021 will solely belong to the real estate.
House Warming to a New Realty
All these combined boons act as a booster for buyers to invest in their choice of property at a decent rate. But is this blind turn towards investing in the real estate the most sustainable way of leveraging and learning well from the whole situation? We go indifferent on how landscape & environmental factors affect the prices of real estate; however when talks about prices of real estate affecting the environment come through, we are all ears!
Yesterday's investment, today's hustle & tomorrow's earning, and not to forget, that additional commission. This has pretty much been the mantra of buying real estate at a low price in not the most suitable time to earn the benefits in a fairly decent future time.
Residing in a developing country, the expectation of seeing a roof over everyone's head isn't inconspicuous! But this blind investment in real estate by the 'heavy pockets', are we really getting towards the vision of eradicating poverty or homelessness?
Neighbours on Alert
National Geographic says that by 2050 two-thirds of the world's population might live in the urban areas, but are the ones living on footpaths of the urban areas counted? Further-more, poverty & environmental degradation come up as the two of the most pressing problems faced by the world.
Let's face it – with intensive urban growth, poverty just seems to elevate. Large levels of the waste that is not collected or processed efficiently can also lead to serious health hazards. With development of the real estate, many risks can magnify immensely. Most of them including environmental hazards of all types, i.e., chemical, biological, cultural & physical. Such hazards can be counted like, floods (flash flooding), pollution, vibration and the list can go on and on. This is just a peek into what can happen if we continue being reckless or greedy, or worse, both.
The lockdown started with some really pleasant surprises – watching ducks, dolphins and deer come out without any fear. Unfortunately, as the lockdown ends, we could easily be creating more deterrent for these lovely creatures by investing more in concrete than in concrete ideas.
Many a times, people invest in lush green lands to be developed into malls, buildings or apartments; due to which the wildlife gets affected, and adversely. It is made to ingest toxic substances directly or indirectly, it tends to lose the natural habitat and food sources. Interestingly, there is a chance, that to survive, animals move towards the cities for food, shelter, etc. Clearing large forest lands or cutting down lush old trees clearly will have an eventual effect on our habitats too.
Let's not forget what the crisis taught us so well. Let's rebuild but with more responsibility, discretion and heart this time.
— Hridaya Khatri