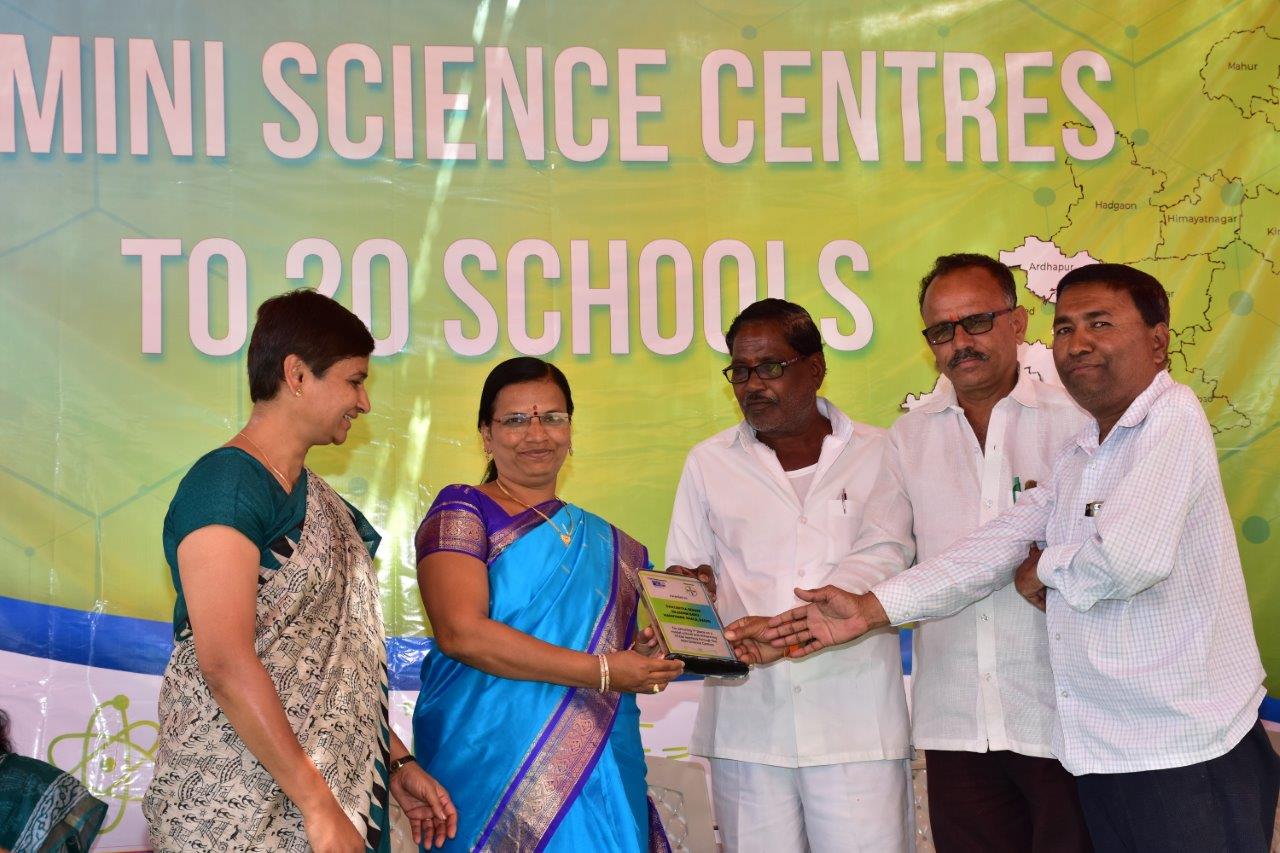 At a function held recently at the Zilla Parishad High School, Wadepuri, Maharashtra, twenty fully-functional Mini Science Centers (MSC's) were handed over to the principals from government-run schools across Nanded. Executed by NGO United Way Mumbai and supported by Bayer, these schools have benefitted over 9000 students since its launch in 2017.
The Mini Science Centers are built specifically for students from Class 5 to 9 to encourage scientific temper in an enjoyable and engaging manner. Each center includes 60 tabletop models explaining key science and math concepts like magnetism, resonance, gravitation, Pythagoras theorem, properties of waves, etc. These models are in alignment with the school curriculum and are approved by Maharashtra State Council of Educational Research and Training (MSCERT) and National Council of Educational Research and Training (NCERT). The manuals and back-drops in the MSC's are adapted to the local language to aid effective learning.
The guests of honor at the event were Gutte, Block Education Officer and Dattatreya Dalvi, Former Deputy Chairperson, Panchayat Samiti, Loha Taluk. Over 100 children and representatives from United Way Mumbai and Bayer were also present at the event.
Speaking at the event, Gutte, Block Education Officer said, "A strong foundation in science will help children be creative and curious, paving the way for innovative thinking. With such science centers in place, children will find learning science easy, fun and interesting".
Sharing his thoughts, Suhas Joshi, Head, Corporate Social Responsibility, Bayer South Asia said, "Science is factual and a very interesting subject. We have created a platform for children through the Mini Science Centers that provide experience-based learning and a unique opportunity to mould perceptions on the unlimited possibilities that science has to offer."
Speaking at the event, Jayanti Shukla, Chief Executive Officer, United Way Mumbai said, "Bayer's support has helped spark an interest in Science amongst children through the Mini Science Centre and the Do-It-Yourself (DIY) model-making project. The infrastructure provided to the schools now allows teachers to demonstrate scientific concepts in a practical manner and gives the children hands-on experience. Post establishment of the science centers, we are happy to say that we have recorded an average of 5 to 8 per cent increase in marks scored in Science and Math across grades. We at United Way Mumbai are grateful to Bayer for this opportunity and their commitment to furthering science education in underserved communities."