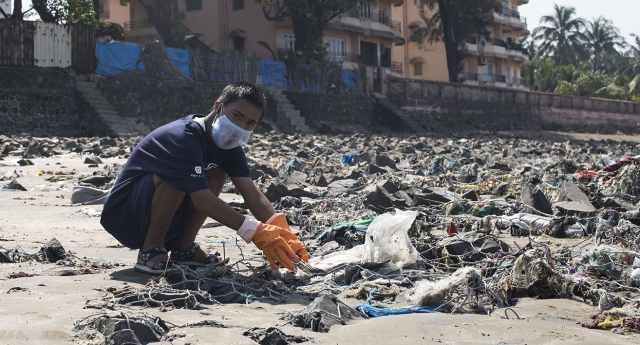 Dropledge, a social cause based tech company organised a beach clean-up event called Ocean Heroes on 28th February 2020 at Dahanu Beach with Dr. Dinesh Vinherkar & Dharamveer Anand Dighe, Jidd Vishesh Shala, Thane and WCAWA (Wildlife Conservation and Welfare Association). This initiative was organized to not only create awareness of plastic pollution in oceans but also encourage the current & future generation to take right actions in saving the planet.
The event started at 10: a.m. with Dr Dinesh Vinherkar, well-known Veterinarian, Turtle rescue and conservation expert leading the special needs students & their parents along with staff of the school for the beach clean-up. During the beach cleaning activity, the students gathered 200 kgs of plastic debris and plastic waste that got washed ashore through tidal waves. On the initiative of Ocean Heroes Sonia D'Souza-Bhavsar, Founder, Dropledge said, "Unsung heroes are working tirelessly to save the planet. And Dropledge's Ocean Heroes is one such platform to bring forth such incredible work in front of the masses. Thus not only driving real actions & but also encouraging powerful collective outcomes – from the present generation as well as the future generation – including children with special needs who are equally aware & ready to take a stand."
Speaking on the event Dr. Dinesh Vinherkar said, "It was indeed heartening to see the students from Jidd Vishesh Shala & their parents along with the teachers, to come forward, participate in the beach clean-up & take actions in making our beaches & seas plastic free. By partnering with Team Dropledge, thru' their Ocean Heroes platform I am hoping to reach out to more people especially young children who are quite aware of ocean pollution & ready to make a difference."
The beach clean-up initiative was followed by an informative session on turtle & marine life conservation. In this session, Dr. Dinesh Vinherkar shared insights & information about problems caused by plastic to marine wildlife as well as the efforts undertaken by Turtle Rescue and Rehabilitation Centre Dahanu. This initiative was of one of the many efforts by Dropledge to create real actions with Real Ocean Heroes towards empowering the cause of reducing plastic pollution in the ocean and marine life conservation.
Team SustainabilityZero