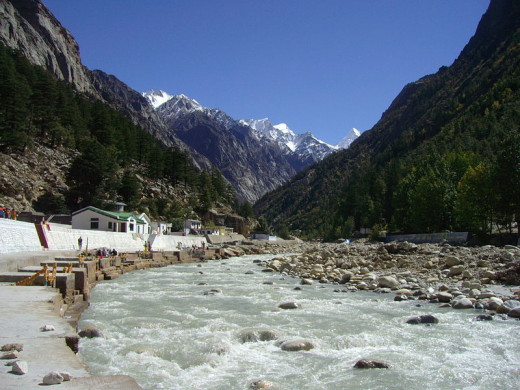 — Keshav Chaturvedi
On June 8, this year, according to Hindu calendar (lunar calendar) the devotees will celebrate Ganga Dussehra – a festival that marks the descent of Ganga from Heaven to the Earth. Ancient Hindu texts and beliefs that they spawn, suggest that prince Bhagirath paid penance and was able to convince Ganga to descend to earth from her abode in heaven to cleanse the cursed ashes of his forefathers.
This river obliged and since then is revered as the purifier par excellence. Religiously inclined people still believe that bathing in the river,
especially on Ganga Dussehra, liberates once soul of every sin. This belief has been one of the stumbling blocks in convincing them to come forward and save the river. They think it's well nigh impossible for their sacred river to be polluted by any human activity.
I have met perfectly well educated people in the city of Allahabad, the confluence of Ganga and Yamuna, talking about the legendary purifying capacity of their dear river. They say that whatever pollutant you throw in her, it turns into clean water within minutes. However, the challenge of cleaning Ganga is not restricted to just awareness campaigns or lack of it. There are some serious hurdles that stare at the incumbent minister of water resources and Ganga Rejuvenation Plan, Uma Bharati.
To understand the complex nature of the challenge, we will have to understand the size and scale of problems Ganga faces in catering to the need of a large mass of humanity. The river serves 400 million people. This is perhaps the biggest number of people being served by just one river (Yangtze, in China, can be an exception). Along with humans it also supports 140 species of fishes with the most prominent being the fresh water Dolphins.
Along with the river there are two canals which have been carved out during the 19th century to feed a growing number of mouths and water increasing acreage of agricultural land. The Upper Ganga Canal, built during the British rule in 19th century (between 1842-54), was meant to discharge 6000 cubic feet per second of water. However, over the years the discharge has been constantly increased and today it stands at 10,500 cubic feet per second. The total length of the main canal is 272 mile (435.2 kilometres) and its distribution channels account for 4000 miles (6400 kilometres).
The entire network of canals and distribution channels provide irrigation to 9000 square kilometres of agricultural land in 10 districts of the most populous state of India, Uttar Pradesh and the hill state of Uttarakhand. A couple of hundreds of kilometres downstream near a town called Narora in Uttar Pradesh another canal, the Lower Ganga Canal, and its distribution channels also runs into hundreds of kilometres.
Together they have scripted a green revolution in the Western part of Uttar Pradesh state almost a century earlier than the one India witnessed in Punjab 40 years ago. Along with irrigation, the need for power has propelled many entrepreneurs and the state as well as central government to set up a string of hydro power projects along two main tributaries of Ganga. Bhagirathi and Alaknanda are two Himalayan rivers which meet at the hill town of Devprayag to form the Ganga. These two river systems have a clutch of tributaries and almost all of them are under severe stress due to a hydro power development binge for the last three decades.
Right now 29 small and big projects are being built on the Bhagirathi River.
A total installed capacity of 1422 megawatt (MW) has already been built while another 3449 MW is under construction. Similarly on Alaknanda, 37 projects are underway. Hydro power plants with a total of 429 MW of installed power have been constructed while 3734 MW is underway. The dams and canals present a unique set of challenges called competing demands. While the canals have irrigated large tract of land and support millions of farmers the dams, while meeting a small portion of India's electricity needs, fulfill a critical business interest of a small but powerful section of the business community.
All the dams that are being built in the Himalayan region on Bhagirathi and Alaknanda have resulted into diversion of many kilometres of rivers from their original course. Many smaller channels have either been lost, reduced or dammed and their flow is severely restricted. Any plan to clean Ganga rests on tackling these two issues of grave importance. Why I call them grave is because both the dams and the canals eat into the natural flow of the river water.
A recent study by a group of scholars suggests that by the time Ganga reaches Varanasi, it only has one percent of the original river water in it. Rest of the water is from the tributaries like Yamuna, Chambal, Ken and Betwa. Most of the river water and pollution control studies suggest that rivers have witnessed high levels of pollution due to two broad reasons. One is obviously the increased pressure on the water resource due to increased consumption and consequent pollution. The other equally important and lesser discussed reason is dwindling natural flow. The amount of water in its natural course has come down. Both need to be address if the river has to be brought back to its pristine glory.
The new government has promised that cleaning Ganga is a top priority for it. They have also saddled a minister with the responsibility and as reports suggest the first phase of the plan has been chalked out. However, we should be cautious. History suggests even the most well intentioned initiatives and best laid plans go awry as their thrust is flawed. The earlier attempt (Ganga Action Plan) that was made under the Prime Ministership of late Mr Rajiv Gandhi faltered even after investing Rs 20,000 crores ($ 4 billion).
It is because most of the governments are focused on bringing down the pollution levels which per se is not a bad idea. Actions like cleaning the banks of filth, like used paper and plastic, educating people not to bathe in river water, or leave flowers and dump waste in it as well as treating the municipal waste are welcome but not enough.
The larger issues that need to be addressed are tackling the heavy polluting units like tanneries, paper pulp industries, upcoming thermal power plants and efficiently running the existing infrastructure that was built over the last 30 years but lies in disuse.
Magsaysay award winner Rajendra Singh once took a foot journey along the river Ganga a few years ago and found out a peculiar fact. Of the 28 Sewerage Treatment Plants (STPs) all but one was functional. The problem was lack of proper electricity supply that is a pre-requisite for the STPs to run effectively.
Similarly, the tanneries in Kanpur haven't been tamed. Add to this other more polluting industries are coming. There was a move to shift the tanneries away from Ganga. But this was again an ill-advised and half baked idea. You are just shifting the pollution and not address it in right earnest. Wherever they will be set up they will start polluting that area. So the problem will remain, only the sufferer s will change.
The threat of constantly rising pollution is aggravated by the silent but visible explosion in population along the Ganga basin. Meanwhile the diversion of water channels in the upper reaches of Himalayas from the source rivers of Ganga and then in the canals create a unique scenario. On the one hand you have spiraling demand for water and on the other you have constantly shrinking supply. Add to that, whatever water is available suffers from pollution abuse of the worst order. These challenges can give jitters to even the most stout hearted policy planners and administrators.
The options that people in power are always clubbed into two – soft/quick fix/populist or hard/long term . Ganga needs an approach based on the latter. The new policy planners will to do a tight rope walk. They will have to weigh the options between maintaining a minimum flow in the main river while meeting the demands of those who are dependent on the canal for more than 100 years. They will have to safe guard the interests of hydro power developers while also maintaining the integrity of river ecosystems in Himalayas.
 They will have to address the issues of municipal and industrial waste in a manner that it is treated on the site and not just transferred to another area on to other people's head.
The bold plan will have to close down some of the power plants that are not performing or are under construction and cancel those who haven't started their construction work yet. Water supply in the canal will have to be regulated and local water bodies in the hinterland as well as catchment areas will have to be revived to bring down people's over dependence on canals.
The STPs would need 24×7 electricity supply along with enhanced capacity to deal with ever increasing waste. Tanneries and thermal power plants will have to be forced to install and run waste treatment plants. If need be they can be extended soft loans for the purpose if there financial health doesn't permit such activities. City water supplies will have to be modernised to bring down wastage. Then and only then the cosmetic changes like cleaning the ghats, painting benches, introducing new boats will have any significance.
But the task will not be easy. Politically it would be a delicate exercise as people living along the canals and the river banks are equally potent and volatile vote banks. How the government will steer ahead with a noble cause and how far will it succeed in its endeavour, only time will tell.
——
The author is a geography graduate and have been tracking the issue of climate change ever since the Rio Conference in 1992. He has also authored a book on the politics of climate change and was the content head of a renewable energy magazine – Energy Next. He blogs at — http://indiadynamic.wordpress.com/