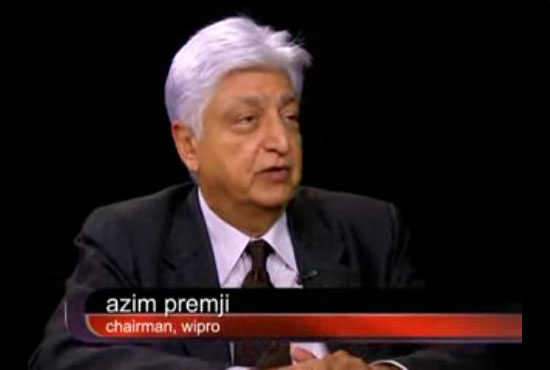 — Shashwat DC
Much of our generation had grown up listening tales about how the Tatas (especially Jamshetji & JRD) were one of the most respected businessmen, not because they did their business with ethics and uprightness, but because they believed in sharing their good fortune with the lesser blessed. The name and brand that Tata is today is because of that generous giving in terms of institutions be it IISC or TMC.
But then those were tales of bygone days, we have only lived and seen businessmen turn into
billionaires, and billionaires into mega-billionaires, with fancy yachts and luxurious homes. Today, the respect a businessman commands demands on his ranking in one of those lists, Forbes, Fortune or otherwise.
Yet, there is one single man, who is an anomaly to the system. He firmly believes in meritocracy, in simple living and most importantly in giving back to the society, what he has so rightfully earned. That man is Azim Hashim Premji, the man with the biggest heart (philanthropic) in India. Born in wealthy family, Azim Premji created much more wealth far beyond the imaginations of an average Indian. Thanks to his timely diversion towards the IT sector in the 80s, Premji's net worth is estimated to be around $16.3 Billion or around 1 Lakh Crore (in INR).
At numerous times, Premji has been on the top-end of most of the riches list, and is touted as one of the richest Indian in the world. Yet, these are not the things that encapsulate the character of Premji, but it is his actions. He was the first Indian to sign up for the Giving Pledge, earmarking 50% of his personal fortune for philanthropy. To that end, Premji transferred an additional 18% of his stake in Wipro, thus taking it to a total of 39% per cent of stake (worth Rs. 53,284 crore) for his philanthropic work channelled through Azim Premji Trust. Through this way, a sum of 530 crore will be pumped into the trust this year via dividends.
Premji has been an inspiring figure in Indian industry, a man of simple tastes, there are scores of anecdotes of him travelling by economy class or taking local cabs now and then. He has also enshrined a code of conduct into the DNA of Wipro, ensuring that with profitability, sustainability is not compromised. In fact, he has famously stated that "economic value is sustainable only if created on a foundation of ethics and responsibility."
The best part about his philanthropy is that he is eagerly creating institutions. For instance, the Azim Premji Foundation has been assiduously working in the education domain, building capacity through universities and institutions. The stated goal is to "over the next few years, the Foundation plans to have about 50 District Institutes, 30 schools and over 4000 employees". They also have numerous programs running like Earthian, wherein they promote sustainable thought and dialog for the future. One of the best things Premji has done is to get on board highly charged individuals like Anurag Behar and G Anantha Padmanabhan to build capacity in various domains.
Through his diligent work, he has redefined philanthropy in India, which was till date just cheque-booking writing for noble causes. By being involved, he is trying to solve problems, make it a better tomorrow rather than just throw the money and shout it to the world. He in that way truly lives by the ethos which Jamshetji Tata had presented when he said, "There is one kind of charity common enough among us… It is that patchwork philanthropy which clothes the ragged, feeds the poor, and heals the sick. I am far from decrying the noble spirit, which seeks to help a poor or suffering fellow being… [However] what advances a nation or a community is not so much to prop up its weakest and most helpless members, but to lift up the best and the most gifted, so as to make them of the greatest service to the country."
Little wonder, Premji commands respect in the corporate space like no other. Behind the mild manners and the gentle words, lives a man who is conscious of his responsibility as a citizen of this planet, of this society. As he will turn 70 in July, let's pray for his long life and hope there were more like him around. In the days to come, methinks Premji the name would be as a hallowed word as Tata is. And there will be tales and legends woven around that, just like we hear about the Tatas. So, in that way, we are living through the times when a legend is being created, and this is such a good thing.