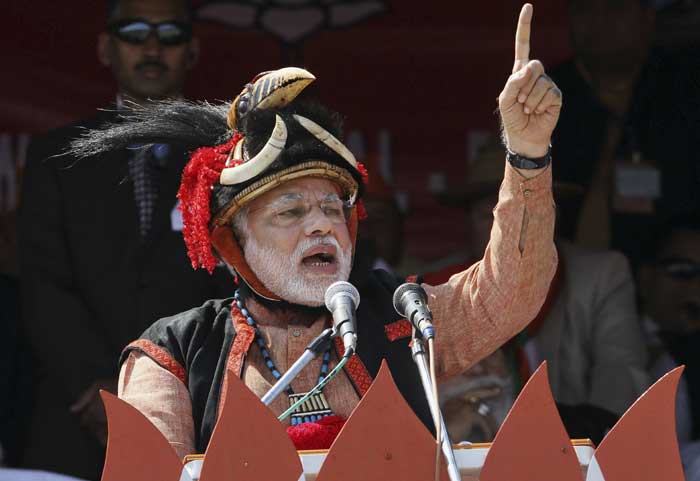 — Shashwat DC
While much of India celebrates, especially the business community (the record breaking sensex is an indicator), the ascension of Narendra Damodardas Modi as the 14th Prime Minister of India; there's one set of people that seem to be a bit worried and apprehensive. And no, this is not the political types who wish to prop their own, but rather the scientific and civil rights community, especially those in the realm of flora and fauna. The primary concern that seems to be bugging them is the state of affairs of environment in India under the new suspensio
n. And the reason for their wariness is not altogether surprising, considering that the strong man from Gujarat does not have an altogether impressive track record when it comes to conservation. While much admired and appreciated for his almost missionary zeal when it comes to economic progress, Modi seems to perceive environment as something secondary or even tertiary in the overall scheme of things. Environmental damage in the name of growth is merely a collateral damage that can hardly be avoided. He has not been an ardent proponent of sustainable growth, as much as he is of big-ticket economic growth. And this is especially worrying for quite a few that care about the environment.
In a strange sort of way, Modi is a curious mix of say the pro-business Republicans in the US and  pro-capitalist communist from China. Thus, he has imbued the vision of the Republicans and the will of the Communists. So his projects keep getting big and bigger all the time. This fascination for 'mammothness' often comes at a detrimental environmental cost. But why bother about environment when so much change can be brought? To be able to guess the effectiveness of Modi (on the environmental front) as a PM of India, let's take a journey through past and look back at his track record as a CM of Gujarat.
Big, Bigger, Biggest
The first real confrontation of environmental protection and economic growth came to fore during the Sardar Sarovar Project (SSP). A series of big dams and many more 'smaller' dams were built over the Narmada River. Through these dams, Gujarat would be self-sufficient in power, and by canalizing the water, millions of Gujaratis could get water at their doorstep. To be fair to Modi, SSP had been initiated much earlier in the 80s, but the matter g
ained prominence when under his aegis, there was a proposal to raise the height of the dam from 90 metres to 121 meters. The result of which would be thousands of acres of upstream land being drowned under the wake of Narmada, and many more displaced. The issue gained international prominence when social activist Media Patkar launched the Narmada Bachao Andolan (NBA) and fought against it. Many celebrities like Aamir Khan and Arundhati Roy got involved spoke against the forceful displacement. Sadly, the matter got too much politicised, with NBA even reaching out to the US Congress to intervene. Within a short-time, the issue became one of with-Gujarat or against-Gujarat. And this conundrum, no real deliberation could be made on the massive losses to the environment, huge tracts of forests were lost, many more species drowned out. Subsequently, when the Supreme Court allowed for raising the height, that was the end of the argument. Even in its order, the Supreme Court, briefly touched upon the cost of development, but as usual it was outweighed by the benefits. Here is what honourable court had to say:
"The argument in favour of the Sardar Sarovar Project is that the benefits are so large that they substantially outweigh the costs of the immediate human and environmental disruption. Without the dam, the long term costs for people would be much greater and lack of an income source for future generations would put increasing pressure on the environment. If the waters of the Narmada river continuous to flow to the sea unused there appears to be no alternative to escalating human deprivation, particularly in the dry areas of Gujarat. The project has the potential to feed as many as 20 million people, provide domestic and industrial water for about 30 million, employ about 1 million, and provide valuable peak electric power in an area with high unmet power demand (farm pumps often get only a few hours power per day). In addition, recent research shows substantial economic multiplier effects (investment and employment triggered by development) from irrigation development. Set against the futures of about 70,000 project affected people, even without the multiplier effect, the ratio of beneficiaries to affected persons is well over 100:1."
And so, development won and environment lost.
But SSP was just the beginning,  to be followed by a litany of environmental issues. Be it the SEZ in Mundra; the Gujarat High Court had ordered closure of 12 manufacturing units in the Adani Ports and Special Economic Zone (APSEZ), stating the SEZ did not obtain environmental clearance from the Union Ministry of Environment and Forests (MoEF).
Poisonous ship & murdered activist

In 2006, Gujarat was again on the global radar, as French 27,000-tonne warship Clemenceau laden with asbestos, PCBs, lead, mercury and other toxic chemicals, sailed to Alang Shipyard for scrapping. The hue and cry raised by the likes of Greenpeace and civil activist
s, brought the Supreme Court into play which forbade the ship to enter Indian waters. Subsequently, France recalled the ship and it was dismantled in the UK. Even so, Alang today is a sad metaphor of how pristine scenic beach has turned toxic because of indiscriminate salvage operations. Today, nearly half the salvaged ships in the world are from Alang. On an average around 350 to 400 ships are broken here every year. But now, Japan has stepped in, to assist in the upgrading the environmental standards at Alang but it is still a long way off.
There have been much cases and reporting on rampant illegal mining in Gujarat, lot of it that takes place unchecked, under the very nose of Modi. Sometime back a senior minister in the Modi government was sentenced to three years imprisonment by a court in Porbandar in the Rs. 54 crore illegal limestone mining case of 2006. And then the broad-daylight murder of RTI activist Amit Jethwa, who had highlighted the case of illegal mining in the Gir forests, wherein a BJP MP Dinu Solanki, was implicated and subsequently arrested. It is a fact beyond doubt, that Gujarat ranks high on the number of cases of harassment and murder of RTI activists across India. Yet again, there has been much attention paid by Modi on the subject, he has not spoken on this issue so far.
Modi's fascination for all things
grand can be judged from his ambitious smart-city project in Dholera, which with an overall notified area of 920 sq kms, envisaged to be twice the size of
Mumbai. Even as the smart city comes to live, slowly, concerns are already being raised about the environmental viability of the land, be it the low lying land or the ecological destruction of the coast line in the wake. Another pet project of the Modi government was the GIFT or Gujarat International Finance Tec-City that was modeled on the lines of Singapore and Shanghai, and meant to be a business hub. Yet, there are many questions still unanswered on the environmental impact.
In fact, even his current pet-project, about building the tallest statue in the world, the Statue of Unity, is mired in environmental concerns on the eco-sensitive zone of the Sadhu Bet Island. Many environmentalist have written about how the proposed structure will bring about environmental damage in its wake.
The Renewable Man
On a positive note, Modi's big ambition and will power seems to have paid off in the renewable sector. He was the first CM to offer private players incentivised tariff scheme to build a large-scale solar plant, which also happens to be Asia's largest. His innovative idea to cover up canals with solar panels, which also happens to be the world's first 1 MW canal-top solar power plant, got him a lot of accolades. Gujarat government has also launched a roof-top solar pilot in Gandhinagar and is now taking it to many more cities. Modi is also very keen on off-shore wind farms and harnessing tidal energy, and his government is already in talks with a whole set of companies to launch projects in this regard.
Gujarat has an installed capacity of 916 mw in solar (highest in the country) and with 3,114 mw in wind and is a power surplu
s state. Modi also has grand plans for the future, he wants to bring in photo-voltaic manufacturing in India, build grander parks, etc. He keeps talking about a saffron revolution; wherein the saffron is the colour of energy (renewable).
In fact at one of the speeches during his campaign he had said, "With eastern part of the country rich in water resources, it is a heaven for hydro power generation; also our coasts are fit for wind energy. Similarly our plains such as Gujarat and Rajasthan are fit for solar energy generation. If the planners had thought of these factors and formed a policy India wouldn't be so dependent on energy imports."
To promote usage of renewable energy by the corporate sector, Modi government had implemented a Green Cess Act, wherein the Gujarat government would levy a green cess of Rs. 0.02 on every unit of energy generated using conventional sources. This applied to both public and private enterprises. The fund is to be used for the promotion of renewable energy and taking initiatives for protecting the environment. The act has been currently put on hold by the courts. Modi government had even launched a mega sea-water desalination project with a private player.
In The End
For all the excitement for the 'holographic' man, there are very many things that remain unanswered. For instance, Modi has spoken about an ambitious inter-linking of rivers, which many experts believe is ecological evil with many  unintended consequences of fiddling with river's ecosystem. And while he talks about cleaning the Ganga River, many questions are still asked about how industries in the chemical belt of Vapi, Vatva, Nandesari and Ankleshwar are able to release their untreated effluent into the sea. Modi has also been a big proponent for abolishing the slaughter of cow (beef industry) but on the same hand, is a vibrant enthusiast of the kite festival in Ahmedabad on Makar Sakranti, even though it is well known that kites (rather the manja of it) kills thousands of birds every year on the day.
The track record of the previous UPA government under Manmohan Singh has not been very fair, mining, adhoc distribution of forest land was very rampant. But at least, in their manifesto, Congress had spoken about environment. Whereas, in the one released by BJP (ostensibly under the sharp eye of Modi) there was no mention of environment at all; only growth and development.
To be honest, the policy of the government (be it Gujarat until now and India henceforth) will run on the whims and diktat of Modi. To give an illustration, some years back Modi had enthusiastically launched Asia's first ever dedicated government department for climate change with great fanfare. But subsequently, he seems to have lost interest on the subject, and according to reports now, the climate change department stands defunct with staff shifted elsewhere.
Modi is a man in hurry, he has big plans to build fast-speed bullet trains, hydroelectric power plants, manufacturing hubs and dozens of cities, bringing India at par with China, ushering in a manufacturing revolution. And sometimes in a hurry, he tends to overlook little things. Like in June when he addressed a rally in Arunachal Pradesh, much to the horror of environmentalist, he was seen sporting a head-gear which had a rufous-necked hornbill, protected under Schedule I of the Wildlife Protection Act. The bird is listed amongst the most endangered hornbills in India. The cap also had bear fur, and tusks from a wild boar. A man known to be so protective about the Asian Lions was wearing a cap that had so many endangered animals in it. But even after all the furore, there was no word of regret or reflection from Modi or his team.
And that is why many in India are worried, lest not development and growth come at the cost of environmental disregard and degradation. CM Narendra Modi's track record has not been very fascinating in this regards, hopefully PM Narendra Modi's would be different. There are many a fingers, toes, paws, and claws crossed on that one.
——-
References & further read
http://www.toxicswatch.org/2014/04/inter-linking-of-rivers-how-to-kill.html
http://ramachandraguha.in/archives/development-or-destruction-the-telegraph.html
http://www.ens-newswire.com/ens/feb2006/2006-02-20-04.asp
http://www.thehindu.com/news/national/hc-notice-to-gujarat-minister-in-illegal-mining-case/article5150301.ece
http://indiatogether.org/alang-environment
http://www.firstpost.com/politics/narendra-modis-gujarat-model-has-no-space-for-rti-activists-1214009.html
http://www.theguardian.com/cities/2014/apr/17/india-smart-city-dholera-flood-farmers-investors
http://timesofindia.indiatimes.com/city/ahmedabad/Gujarat-junks-climate-change-action-plan/articleshow/25720157.cms