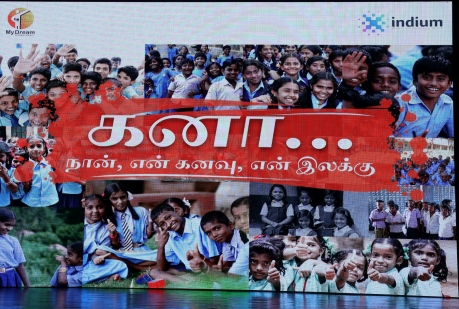 Indium Software, a global technology services company launches its flagship initiative 'Kanaa' – Dream, an endeavor to offer socio-emotional mental learning (SEML) to school students deprived of proper life-skills training. The initiative was launched by Samuthirakani, a celebrated film director and Actor, Jayalakshmi, CEO – Kalvi TV, Sarathbabu Elumalai, CEO – Food King and Ram Sukumar, Co-founder & CEO, Indium Software at an event held at Smt. Sivagami Pethachi Auditorium, Chennai.
Kanaa, a project for empowering dreams is aimed at helping government school children between ages 11 to 14 years realize their biggest aspirations and help them achieve the same while laying stress on their overall well-being. As part of the initiative, over 1000 students from 4 government schools in Chennai will undergo 4 workshops for a 1-year period. These workshops are designed and executed by Indium employees and Green Minds Centre to develop their resilience, self-sufficiency and provide a winning attitude. Green Minds Centre, a Life Education center offers various programs for students to address the complexity and interconnectedness of today's challenges. The learning experiences at the workshop will also be integrated into their day to day personal and professional life for excellence.
"I'm personally inspired by a famous quote from our former president of India Dr. APJ Abdul Kalam which reads 'You have to dream before your dreams can come true'. His quotes and lectures encouraged and inspired the youth to work hard and achieve their dreams" said Ram Sukumar, Co-founder and CEO of Indium Software, during the launch. Ram added "At Indium, we believe that dreams and aspirations form the first step towards building a successful future. With the launch of "Kanaa" Indium volunteers aim to equip children across government schools with best-in-class training to dream big, gain control over their minds, understand their strengths and be persistent and motivated to achieve it."
Speaking at the event, actor & director Samuthirakani said "It brings me great joy that Indium is working towards securing the future of our country by enabling children to achieve their dreams and aspirations. I strongly believe that workshops like Kanaa will be instrumental in creating a positive impact in the lives of these children.
Team SustainabilityZero