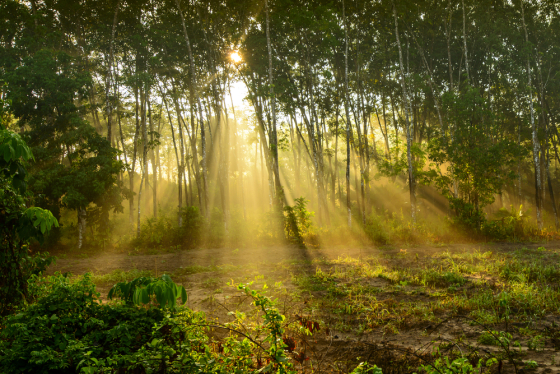 — Pratima H
If you ever come across a study by Jenna Tilt, College of Forest Resources; Thomas Unfried, College of Forest Resources; Belen Roca, Urban Planning, University of Washington, you may be surprised to spot some hard-to-inhale correlation points between urban trees and our way of living.  For instance, the findings pointed that walking trips per month
are positively associated with good 'Quality of Life' measurements and 'Sense of Community'. That should make a good-enough case for NYC canopy or Urban Forest Project or City of Melbourne is experimenting with. Or closer home – Afforestt.
Yes, while the United Nations General Assembly has proclaimed 21 March as the International Day of Forests where awareness of the importance of all types of forests is raised and celebrated, there are people out in the trenches who are raising a toast to the cause almost every day of the year, but not atop barren boundaries. They are out with their spades right across our roads.
Forests have come up on the radar of many global policy shapers and organisations like FAO (Food and Agriculture Organisation, UN) and this September itself, we saw Forest monitoring being tossed up as a key issue in national and international development policy as well as an indicator for several environmental and social parameters. FAO had pointed that still, in many countries, the capacity to collect, analyze and utilize forest resources data is lacking or inadequate.
"Many countries simply do not have a full picture of what is happening in their forests, and without that knowledge it is hard to develop effective forest policies to combat deforestation and forest degradation or to advance national climate change strategies," Eduardo Rojas-Briales, Assistant Director-General for Forestry had explained.
Perhaps that makes sense when we wonder why interactive map project for the City of Melbourne to visualize their entire tree database was even thought of.
If you are thinking that this is something about reporting the state of forests on a mountain around the city, catch some breath, The map is about issues facing Melbourne's urban forest, for an overall view of the health of the city trees, and enables users to explore the data for with each individual tree right in the city and not in some far off valley around.
In short, as you are walking, you can check for a Eucalyptus in your zone as well as its life expectancy.
Similarly, residents can view the location of street trees throughout New York City via the filters and click on a tree, to see what it looks like on the street and see the estimated diameter etc just the way use of colored iconography helps viewing on a mobile device in Melbourne.
The Urban Forest Map is another collaboration of government, nonprofits, businesses wherein one can map every tree in San Francisco; also allowing to calculate the environmental benefits the trees are providing –like how many gallons of stormwater they are helping to filter, how many pounds of air pollutants they are capturing, how many kilowatt-hours of energy they are conserving, and how many tons of carbon dioxide they are removing from the atmosphere and so on.
There is a 'Friends of the Urban Forest' team that helps individuals and neighborhood groups plant and care for street trees and sidewalk gardens in San Francisco.
Such attempts all around the globe reinforce and wake the urban planning machinery to the idea of a green infrastructure that is not just about beautifying neighborhoods, or reducing carbon or purifying the air, but also capable of raising property values and reducing polluted stormwater effects,
To cut it short, yes, this is no breaking news that street trees and sidewalk gardens beautify our urban environment so much so that the U.S. Environmental Protection Agency and city planners anoint them as "green infrastructure" already.
In fact, as reported by an initiative, a study of the sale of houses in Portland, Oregon showed that on average, street trees add 3% to the median sale price of a house and reduce its time-on-market by 1.7 days. Trees of course, also capture airborne particles such as dirt, dust and soot; and it is no surprise that a mature tree can absorb 120-240 lbs of particulate pollution each year. Talking of ROI and other modern myopic glasses that we city-dwellers usually are addicted to, a University of Eashington study 'Urban Forest Values: Economic Benefits of Trees in Cities' showed that a 25 foot tree reduces annual heating and cooling costs of a typical residence by 8 to 12 %, producing an average $10 savings per American household. Also, buildings and paving in city centers create a heat-island effect. A mature tree canopy reduces air temperatures by about 5 • to 10° F, influencing the internal temperatures of nearby buildings. In a survey of one southern community, 74% of the public preferred to patronize commercial establishments whose
structures and parking lots are beautified with trees and other landscaping.
The same study pointed that when Weyerhauser surveyed real estate appraisers, 86% of them agreed that landscaping added to the dollar value of commercial real estate. 92% also agreed that landscaping enhances the sales appeal of commercial real estate. There was a 2008 study by researchers at Columbia University that reminded that more trees in urban neighborhoods correlate with a lower incidence of asthma.
Surprisingly enough, Kathleen L. Wolf in her work ' Public Response to the Urban Forest in Inner-city business districts' shows that consumers have a 12% higher willingness to pay for goods and services in retail areas that have streetscape greening such as street trees and sidewalk gardens
Trees also help in intercepting storm water, calming traffic noise, speed, and accidents too. In fact, high levels of greenery has at some points reported as much as 52% fewer crimes and lower levels of fear, fewer incivilities, and less violent behavior,than those without any trees thanks to the improved pedestrian eye and a greater sense of community that trees bring along.
That's not all, street trees and sidewalk gardens are also regarded positive for the physical and mental barrier between the street and the sidewalk, and thus reducing accidents' besides providing a natural habitat for birds and insects, absorbing traffic noise building neighborhood and civic pride and many more incidental effects.
In short, forestry in general is in a quicksand of affairs and even as big initiatives by UN and other bodies continue, there is small genre of lateral thinkers emerging who are attacking the problem deep in the cities we inhabit. NYC Canopy, Urban Forest project, City of Melbourne have been experimenting well for quite some time.
India is not left behind when it come to such crusaders who are soiling their hands and doing their best to plant more numbers and inject more oxygen through radical forests right around our skyscrapers. Interestingly it all starts and end with a question never asked before – why should forests always be tucked far off in a canyon away from urban fringes rather than inside our cities?
Shubendhu Nath and his initiative are asking and answering that precise question mark. Follow the trail.
Are Indian corporates doing enough for biodiversity conservation? And what can they ideally do?
Few are! Corporates, especially the ones with factories and offices in large premises can actually do a lot. The first and easiest thing they can do is to convert their exotic landscaping into native one. Native trees bring a lot of lost biodiversity not just as flora but in form of fauna dependent on these greens. Since native trees do not need any
maintenance; the idea saves a lot of money too.
Why should native forests be preferred over landscaped lawns?
Look at it this way. Lawns need regular maintenance and they do not have specific output. This is also a thin, single layer greenery compared to 30 times more green surface area as well as more C02 absorption plus water retention that trees allow. They are maintenance-free to top and also toss out fruits etc.
Are there any dangers of invasive species, especially when it comes to well-manicured lawns?
Invasive species starve the native vegetation for nutrition and finally eradicating them. Manicured lawns have a negative impact on the ecology, as the consumption of fuel and resources to keep them alive can never be a sustainable process.
You state that these forests can be self-sustaining in a matter of 2-3 years, what happens after that?
They keep growing and become equivalent to a 100 years' old natural forest in just 10 years.
Biodiversity conservation often means tree plantation drives for most Indian companies, is that sufficient and why not?
That's not sufficient. Maintenance of trees after the plantation is more important than planting, Also, something which is not measured can never be improved. The 3 most important KPIs (Key Performance Indexes) for any tree plantation project or afforestation are, 1) Tree Survival Rate. 2) Average Growth Rate height. 3) Average Growth rate at girth of the tree.
How big or how large can these native forests be?
The smallest one can be just 1,000 Sq Ft. There are no limits for the largest! Dr. Miyawaki is making a 300 KM long and 100 Meters wide forest strip in Japan right now.

What are the cost implications here? And can these forests be designed in a manner that they can be profitable, say trees of certain fruits, etc.?
Cost varies from project to project, depending on the size of project and location of site. It can cost as low as Rs. 20/Sq. Ft. to Rs. 200 /Sq Ft. Yes, they can be profitable.
Can it be done in a desert or sandy land? What are the limitations of such urban forests?
Yes. Since we use species native to the land, biggest limitation is that we do not give much choice of species to our customers; we plant what's best to the ecology of the place and that benefits people too.
You have said that your aim is to bring up the forest cover of India, how brave or practical is that goal?
We have just raised the bar now! It's not just India anymore; we are starting a project in Middle East soon, in Oman!  And it's very much practical. I have plans to take the methodology to the masses that are going to exponentially increase the scale of our kind of afforestation by many folds.
Finally, what are the reasons for the company being named Afforestt (mind you the double f and t)?
Well a number of reasons at that. My home is very close to Jim Corbett National Park and initially I wanted to name the company 'Corbett'. Then I wanted to name the company in such a way that is speaks about our work, so "Afforestt, does afforestation". HumaraNaam= HumaraKaam So, Afforest.com was taken. The two kanji characters (replacing tt) in our logo means 'forest' in Japanese, it's our tribute to Dr. Miyawaki and Japan to bring us the power to bring back the forests.