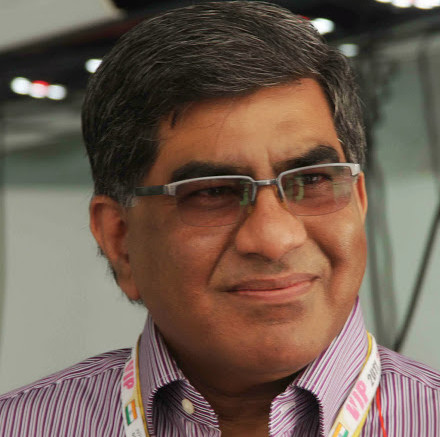 Given their expertise and experience, external consultants do add value, but they need to be judiciously engaged. Rohit Adya, Director, External Affairs, Vodafone India starts with a tip of the iceberg on external competence, but as we gaze deeper, it turns out that sustainability is so much more than a trendy caller tune. Here's what he had to share with Shashwat DC, listen on:
Can sustainability be communicated effectively and yet in an innovative manner? Any interesting approaches you can cite?
Yes there are several ways to do that. Creating interesting literature and activities about the cause you espouse can go a long way in engaging desired audiences. For instance, as an organisation, Vodafone India is committed towards the cause of women empowerment.
On our side, we published an interesting, visually rich,  book titled 'Women of Pure Wonder' chronicling the success stories of 50 ordinary women coming out as heroes in extraordinary circumstances. We have a special series on women empowerment airing on NDTV that further illustrates the need and benefits of this important and socially relevant theme. Of course, actions speak louder than words – so to communicate this theme, we organised a 'Giving Championship' internally where in our 12,000 employees raised funds to send almost 50,000 young girls back to school. Further engagement via case studies, videos, presentations that can be shared and broadcast digitally continues and so does participating in thought provoking knowledge co creation seminars and conferences so as raise awareness about such initiatives.
Would a sharp social-media strategy fit in here?
Indeed, social media is emerging as a strong pillar for engagement and communication with relevant stakeholders about CSR and related activities. We believe it provides opportunities not only to share but also hear, engage and learn from experts worldwide. Platforms such YouTube, LinkedIn, Google+, Twitter, etc. are being increasingly used not just by corporate entities, but also the developmental world to raise awareness about their actions and the resultant impact.
Crowdsourcing is another interesting feature used to raise awareness, support and even funds for a specific cause. I would say that social media is also a relevant platform to create a dialogue forum or a multipronged healthy debate on CSR-related issues.
What is Vodafone's approach to sustainability communication in a nutshell?
Vodafone has developed a comprehensive 360-degree communications strategy to engage with relevant stakeholders at every level. For every stakeholder group, we have a designated SPOC (single point of contact). For instance, sustainability and CSR is an important corporate function that needs to be communicated to a large, diverse audience of
stakeholders, internally and externally. Moreover, employees of a large, geographically spread company such as Vodafone need as much updates about the Company's initiatives in this domain as a journalist reporting or a representative from the development sector seeking to utilise the power of mobile technology for greater social transformation or, for that matter, an employee wishing to join a conscientious organization.
The CSR SPOC engages with a central corporate communications expert to strategize and develop a communications solution for the entire project. The project communications rollout is done in consultation with the respective SPOC and the central communications expert. Additionally, to ensure clarity, the entire communications approach is divided into key themes the organisation espouses.
How?
Each theme has a distinct go-to-market strategy supported by vibrant engagement with external and internal stakeholders.  Further, as a fully-owned subsidiary of a group company, group guidelines on CSR reporting and communications are followed.
Is it tough to execute this genre of communication?
There are a few challenges like measuring the intangible – for example the smile on a child's face going to school instead of working in a brick kiln cannot be measured or explained in numbers. Then, social good cannot be always converted into directly correlated monetary benefits. Important to have a mind-set of People before Profit. What cannot be put across in a balance sheet is also at times is difficult to quantify – Measuring ROI and SROI is always contextual and situation specific. The external stakeholder environment is too hard-pressed or time to listen to and go through heart touching stories of success. Hence, putting stakeholders through actual situations on ground as far as social good is concerned could be challenging task.