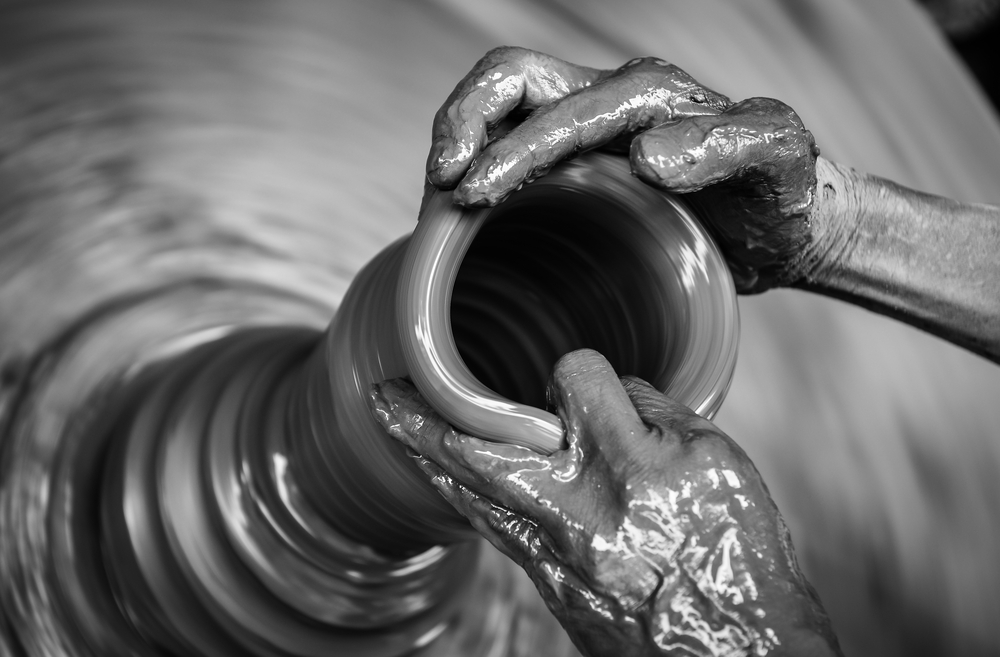 When the wheel of destiny moves, it can take you to totally unexpected places or may turn your whole life around. And that is what happened to this simple son of a potter in a small town of Wankaner, Gujarat.
Mansukhlal Prajapati is credited with developing an entire range of unusual and very efficient earthen products for daily use in the kitchen. Does a refrigerator that runs without electricity and gives you cool water to drink or a pressure cooker made of clay sound interesting to you? Well then, he has a range of products which he specially designed keeping rural people and their needs in mind, but which are now
equally liked and used in many cities of India as well.
Prajapati has won numerous national awards for his innovations and hard work. Many documentaries and case studies are made on his life; he has also been invited by many universities to talk about his experiences and entrepreneurial spirit to inspire younger students (you can read his life story on his website: http://www.mitticool.in). His early life experience of working in a tile-making factory was very useful while designing these clay products. In a candid chat with Jigna Khajuria, the simple man says that his main motive has been to keep researching and experimenting with clay to give people eco-friendly products and save the environment as much as he can.
How did you think of designing these products?
My journey started with a simple cooking pan. Working in a tile manufacturing unit, I had the desire to start an enterprise of my own; I wanted to create new and useful things. In my childhood, I saw earthen pans/hot plates (Tawa/Tavdi) being manufactured manually on the potter's wheel. Using this, one person can only make about 100 units per day. In the tiles factory I saw tiles being manufactured in large quantity on hand press, which made me think, why cannot earthen pans be made the same way?
With a loan of Rs30,000, I started my own earthen plate manufacturing factory in 1988. The modified hand press has the capacity to produce 700 earthen pans per day. Now we have even glazed these pans with non-stick coating and make them in three different sizes. Then came the terracotta water filter with a ceramic candle for filtration in 1955.
How did the clay refrigerator come about?
In the 2001 earthquake in Gujarat, I suffered a huge loss as most of my stock was broken. In February 2001, a Gujarati newspaper carried a photo-feature on the earthquake where at one place it showed a broken water filter of mine with the caption 'the broken fridge of poor'.
This caption kindled a thought in me to work on a clay fridge that did not need electricity and could be used by masses. So from 2001-04, I struggled and worked really hard to develop it. In these three years, I tested all sorts of soils and fridge designs and finally came out with 'Mitticool Fridge' in 2005. A civil engineer was impressed with its applications and gave me an order of 100 pieces and an advance of two lakh rupees. From then, there has been no turning back.
Which of your products is most in demand?
Apart from my local town, people of Mumbai and many other cities have been really kind to me and appreciated me. In Mumbai, people want filters and the cooking pan. While in Hyderabad and Chennai, most orders are for the refrigerator and the cooker. And in Delhi and Faridabad, people mostly order the cooker and the pan. While in Gujarat, all my products are in demand.
What about competition? There are other similar products in the market. Does that perturb you?
Not at all. I have made a name for myself and my brand through sheer hard work. My aim is to deliver quality products with good design.
Those who are copying my products can do so. My job is to keep inventing and offer people something new and efficient every time.
What kind of challenges did you face as a businessman?
People are so used to certain things or habits that the most difficult part is to convince them to try something new. That was my biggest challenge−to make people accept my new products. For example, it was hard for people to believe that there could be a refrigerator that stays cool on its own, that can run without electricity.
How market-savvy are you?
As for expanding the business, I am more concentrated on the research and experimenting side. Luckily, corporates reach out to me during my product exhibitions. Also so many awards and media exposure has helped me a lot. And now my two sons have also joined my business and have taken over much of the responsibility.
What are your plans ahead now? Any new product in the making?
Absolutely! I am constantly thinking of developing a Mitticool house now−a house without electricity that would naturally keep the ambience cool.
Would that be feasible in cities? What features will you use in it?
As I said, it is only an idea in my head at present. I am looking at the viability factors. I might think of using solar panels, may be to run the fans in the house, only when there is no wind and the weather's too hot.
Would you like to suggest/advise young, budding entrepreneurs?
Yes. No matter how much hardship or troubles you face, never lose hope. No matter how much you have to struggle, always keep faith in yourself. God always rewards those who work hard and keep moving on.