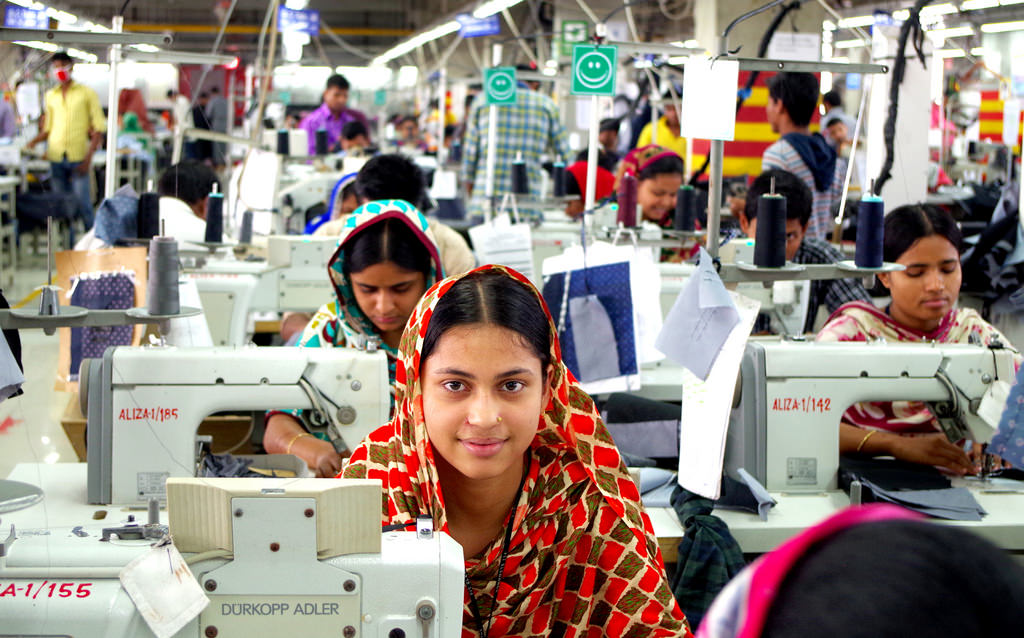 It is late in the night and yet the light that bounces off from the ceiling reflects happy faces around, as women sit working on their machines. The still silence is punctuated at regular intervals with peals of laughter and incessant chatter that rises to a crescendo and falls to a murmur. It is an unusual phenomenon to see women working so late in a factory unit, but then, the lady who runs this shirt manufacturing unit at Ahmedabad, is also unusual. Meet Meena Kavya, founder and CEO of Ayma Creations, a cloth manufacturer that works as the outsourcing arm of Arvind Mills. They supply to brands like Lacoste, Clarie.dk, Brubaker, Soft grey, FCUK on behalf of Arvind. At present, the unit has the capacity to manufacture 40,000 shirts a month.
Meena Kavya has been a champion of women's rights and over 50% of her workforce consists of women. Her endeavor is to get more and more women into the workforce.
Does she find it unusual that women are working so late? Yes, she admits, it is, but then when parents from poor families come to her asking for jobs for their daughter, they say that they don't mind their daughters working so late, if she is around to supervise. She particularly recalls an incident where a father got his daughters, Sangeeta & Bhavna Nayak for a job interview. They were in abject penury, and this job ensured they got Rs 10-12000 per month. They went on to build their own homes and also got married with their own money. Till date they are the first ones to wish Meena Kavya on her birthday.
This is amongst the innumerable stories of how Ayma Creations has helped empower women and free them from the clutches of poverty.
Hers is a simple story, one of determination and hard work. Yet, the simplicity of this story is also what makes it so special, because it speaks volumes of what a determined mind can set out to achieve and make it look like child's play. Meena Kavya's business idea was not a thunderbolt from the sky, nor a sudden spark of inspiration ignited by a certain incident. It was instead a very prosaic start. It was the natural progression of what would happen once her children grew up and how she would spend her free time. Her husband was in the apparel business, so she also decided to start her own venture in the same field. With revenues of 12 lakh in 2003, the company has today grown to Rs 12 crores today.
If there is one thing that Meena has learnt in business all these years is that being organized and having
a razor sharp focus is all that is needed to succeed. She also says she learnt to take life as it comes and
not give knee jerk reactions to any situation. She talks about the need to 'strengthen the woman inside us, not make them like men.' Her message to women is loud and clear. Believe in yourself, and if you have a market for your product, don't be scared to show it to the world. "It really irks me when people at seminars give advice to women entrepreneurs running small businesses on how they need to get out of papad and khakhara business to do something bigger and better. Why? I ask. If your business is doing well, look at ways of expanding it to different markets. As a khakhara maker, if you make a profit of Rs 10,000 per month, your business model is better, than for example a car dealer who runs into losses. I firmly believe, love your product, but don't fall in love with your product. Your passion will not always find a place in the market. Learn to differentiate between the two."
For someone who has such a practical approach to life, she is quite the dreamer and believes strongly in the power of imagination. Being an avid reader, Meena had spent many a childhood days reading Enid Blyton. She says they "filled my hours with joy and gave me the power of imagination." This has had a great bearing on her today and has helped her preempt problems.
There were no hiccups as far as starting her own business was concerned, but once she learnt the ropes of the business, she quickly realized that she was the only woman around. She recalls an incident clearly. During Vibrant Gujarat in 2013, she said there was need for a separate pavilion for women
entrepreneurs. At that time, people shrugged her off, saying the response would be dismal, and if the footfalls weren't enough she would have to bear the expenses. She took up the challenge and the pavilion was full. This was the first time in Vibrant Gujarat that women had a pavilion to themselves where they could showcase their products. This was such a success that Narendra Modi, then the Chief Minister of Gujarat who was at the event, came and spent an hour talking to all the women entrepreneurs.
Currently she is the only woman on the Apparel Manufacturing Exporters Association. Meena Kavya is also on the board of the Gujarat Chamber of Commerce and Industry for the last 10 years.
Her only advice to women entrepreneurs is that one should not run away from responsibilities and assess a project before taking it up. She is vocal about the need for women to understand and handle finances and also handles workshops to train women for this. As Maya Angelou said, a solitary fantasy can transform in to a million realities. Meena Kavya's story helps remind us about the beauty of how simple transformations can lead to a big change. Change that can be measured by small but sure steps. The transition may not seem much in terms of numbers, but it is a transition of substantial proportions
nonetheless. Women are making the shift from getting a livelihood to getting a career, with two women on the marketing team of Ayma Creations.
Her dream is to get Ayma Creations listed in the next five to seven years. She hopes to set up a 'raw material factory', where she dreams of all small boutique owners can come together to source material from each other at a better cost for more quantity. This is still in the early stages of conception and she is looking at a period of two years before the project takes off.
Here Meena Kavya is helping stitch hope with each thread. In a world seemingly obsessed with stories of glorifying struggles and rising to the top, her story is testimony to the fact that a difference can be made in the everyday simple things of life, all it takes is sustained effort. It shows that we could become shapers of a more positive future with by making our decisions more align with our values.
—
Radhika Dave