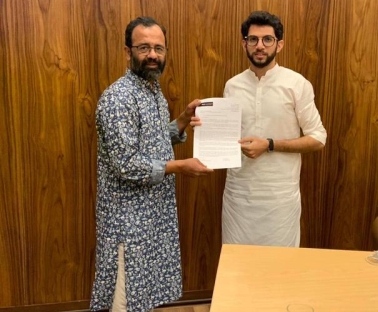 The Forum of Environmental Journalists in India (FEJI) presented a petition on Aarey to Aditya Thackeray, Minister for Environment, Forests and Climate Change, Maharashtra Government. The petition seeks to highlight the importance of Aarey for the city of Mumbai, and how its preservation should be a prime concern for the administration. The meeting gains prominence as Aditya Thackeray is one of the most influential voices in the current government, and is a trusted source for his father Uddhav Thackeray, the Chief Minister of Maharashtra.
Aarey has been under the scanner ever since over 30 ha. of land in the green zone was handed over to the Mumbai Metro Rail Corporation (MMRCL) for the construction of a car-shed. In November 2019, the government under the aegis of CM Devendra Fadavnis had chopped down 2,000 trees in the earmarked area for the creation of the car-shed. At that time, the Thackerays had opposed the destruction, even though they were partners in the government.
Subsequently, when there was a change of guard in Maharashtra, and Uddhav Thackeray took the CM's chair, the very first decision taken by the new government was to stop the construction work at the car-shed and review the possibilities of alternative sites. A committee was constituted to evaluate the options. The committee, dashing the hopes of the citizenry of Mumbai, recently submitted its recommendations of Aarey being the only viable location for the car-shed. CM Thackeray is set to take a call on the recommendations. This is a make-or-break moment for the green cover in Aarey.
Like many groups leading the charge on the 'Save Aarey' movement, FEJI is also doing its bit. Last month, a special program was formulated by FEJI in association with Tata Trusts and Mumbai Press Club to discuss and deliberate the various aspects of conservation, urban planning, and Aarey movement in particular. Renowned speakers like Prof. Shyam Asolekar, MPCB Chair, Environmental Science and Engineering Dept, IIT, Mumbai; Hussain Indorewala, Prof. KRV Inst of Architecture; Sulakshana Mahajan, Urban Planner and Author formerly Visiting Prof, JJ School of Architecture, were part of the program.
The program titled "Urban Climate Resilience: Aarey and Mumbai City" was created as a tribute to the memory of late Darryl D'Monte, who was regarded as one of India's top environment champion in the media space. The program was attended by journalists and editors from different publications were part of the program, which also included a visit to the Aarey car-shed under the guidance of Amrita Bhattacharjee, Aarey Conservation Group.