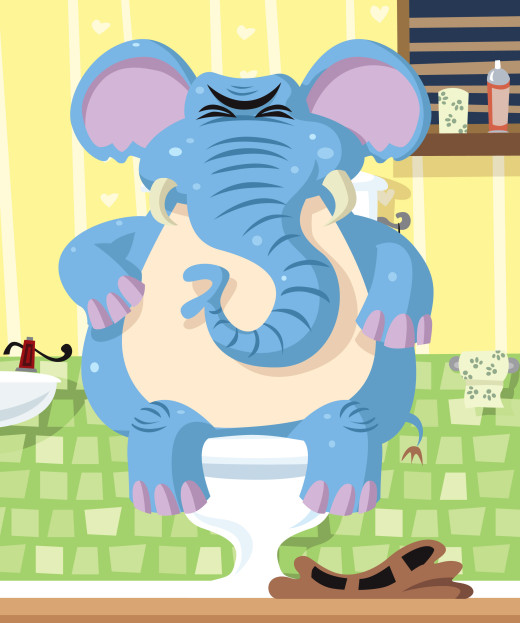 — Pratima H
What is that story about a singing bird, a wicked fox, a pile of shit, a cow, putting the bird in shit and taking it out of shit? Whatever it is, the moral of the story is quite resonating – not everyone who puts you in shit is your enemy.
That's how some entrepreneurs are happy to enjoy rather than wallow in, when it comes to some seriously-big shit.
Brands like Mr.Ellie Pooh or Haathichaap or Poopoopaper or Elephant dung paper are no more alien words that need introduction. They have their cult starts and their special genre of customers adopting the new trend of looking at animal poop in a new way.
The idea is no rocket science but its execution and handling is quite like flying a rocket. More so, because the traditional way of using wood-pulp-based paper is not only environmentally-antithetical in terms of disposal and recycling aspects but also during the value chain of making it.
Poo-based products are often found to use a bleach-free, chlorine-free, chemical-free traditional papermaking process on the other hand.
For the uninitiated, companies like Poopoopaper are betting on elephants, cows, horses, moose, pandas, donkeys etc, in short, fibre-eating animals which eat a lot, poo a lot and generate a plenty of fiber-filled waste material which serves as the base of pulp mixture from which environmental-friendly papers are crafted.
The good side – you get to lay your hands on some exquisite handcrafted, natural, tree-free, recycled, upcycled paper. This by the way is also odorless and functional usually, despite being whipped up from poo.
The Trail runs long
Mahima Mehra from Elephant Poo Paper spills some beans on how she started with the concept per se. For her it was a story that had some large footmarks in Jaipur. Having born and bred up there, and spending a lot of my days going up and down Amer fort, she somehow hit upon this radical idea, without any idea if people in other parts of the world were doing it.
"Initially, I thought this was a very strange idea but since we were already experimenting with it, I thought of doing a random search on the internet to see whether this was being done elsewhere. So this wasn't our original idea as such. The basic idea was to work with different and any kind of fibre which could be converted and HaathiChaap was born when we figured out that elephant poo worked well to make recycled paper." She reminisces.
For Wanchai, it was an epiphany possibly that struck him on his way home from work when he used to pass a natural paper factory and wondered at the simplicity of the process that used natural tree fibers to make high quality hand made paper. Next followed, a trip to the Thai Elephant Conservation Center in Lampang Northern Thailand where after witnessing piles and piles of dung, and fascinated that their fibrous nature, he took them back in a carload and started a new journey called Elephant dung paper that helped his passion to save elephants from human-inflicted plight as well.
This echoes with the emotional underpinnings that even Mr.Ellie Pooh's story cites. Dr. Karl Wald founded this venture after, what is called, a life changing trip to Sri Lanka and later went to ink the Peace project with Maximus for conservation efforts. As stated, their mission is to reduce some of the Human/Elephant conflict that is ongoing and plans to open handmade paper facilities in rural areas, train local villagers to make paper, and hire artisans so that a new industry and initiative can educate people into respecting the elephants and make these gentle giants  blossom into a cultural asset rather than a local threat. This is really remarkable in some regions where elephants are being either exploited or shooed of (with killings often) because of side-effects of rapid urbanisation and humans encroaching their habitats.
Why elephants, you may ask?
The elephant's gastrointestinal tract cannot digest fibres well and thus its dung makes for good potential to form the pulp needed to make paper. In fact, an international brand also highlights how elephants can eat upwards of 250kg per day of fiber-filled meals and since much of that passes through their systems largely intact leaving plenty of fiber, it makes for a great ingredient to make pulp mixtures.
Mehra confronts some clichés and misperceptions here nailing why or why not the concept is completely environment-savvy. "The problem in India is that there are a lot of clichés. The whole idea of making poop paper is that it is made from waste, where 25% is cotton waste and 75% is dung waste. The other aspect of why it is sustainable is that wherever there is dung, there are methane emissions. So making the paper and collecting the dung, reduces the amount of methane in the air."
As per Ellie Pooh, when compared to using virgin wood, paper made with 100% recycled content uses 44% less energy, produces 38% less greenhouse gas emissions, 41% less particulate emissions, 50% less wastewater, 49% less solid waste and — of course — 100% less wood
Although the process of making paper is relative; to make the paper, some machines are required but when you compare it to a mill, 1/100th of the energy is used, Mehra argues. To make poop paper the only process where electricity is used is when the raw material is being converted into pulp and during the finishing stage when the paper needs to be cut and polished. The rest of the time electricity is not needed. It is also utilises less resources as the water consumption is very minimum.
Wanchai, interestingly, could not get the paper right initially and was using family food processor to cut the long fibers to a shorter length. But thankfully, his wife finally lost her patience and gave him two choices – either to stop bringing home dung or concentrate on his job or to make the dung paper full time.
For Poopoopaper, elephant poo fibers are collected from some of the many elephant sanctuaries and parks in northern Thailand or from farms, dairies and stables in the region. Then, the not-so-fiber parts like pebbles, dirt, mud, leaves etc. are removed as much as possible at this point so that all that remains is actual fiber material which is thereafter boiled to a pulp for a softened slurry.  The process, whether it is cleaning or boiling is touted to use only water, and also the waste water is re-used to boil more fibers or used to nourish vegetation or plantations near production area.
Next, mixing and blending ensues and poo pulp fibers are tossed in together with other seasonally available non-wood fiber pulp material for a cellulose-filled, stringy, stronger, well bonded sheet of paper.
The mixture then is surrendered to a screen of sorts that spreads, carves out and dries well what we need and wield happily on our desks.
What is a bonus point is that these excreta are abundant locally and hence removal of the waste material is often helpful and welcome.
Odor issues
Of course, aspects like durability, viability, lifecycle, costs and adoption still stink as challenges around this concept. Cotton paper can last forever because the cotton fibres are very strong in comparison to regular fibres which one gets from wood.  Mehra's team, incidentally, uses cotton fibres in their paper, so they claim it to literally last forever.
Although the products have been received wonderfully, and surprisingly enough more so in the Indian markets than the foreign markets, running a small scale industry comes with its
issues, she shares.
For starts, cohering with local people and getting them to work at a pace you need them to, is difficult, Mehra lets on. "They don't understand city pace and to satisfy your customer base, you need quick production. A big festival comes around and they take a leave to celebrate but you still need to meet weekly deadlines. You need to find a common understanding and sometimes you need to push people to work."
And then there is the ethical or religious connotation to handle. But good intentions stay undeterred.
"There used to be this one particular NGO in Jaipur and who were working with an elephant ambulance and for Amer elephants, they would actually have the ambulance going there every month or every week at times and we were actually giving them part of our funds but they had to shut down because lack of funds and we are very small to actually run the initiative. So what we're trying to do now is actually get someone from Bangalore or Jaipur to restart the whole process because the largest congregation of captive elephants is either from Amer or at temples. So the first thing we hope to do is to stop these melas where these elephants are being sold and work towards the welfare of animals."
So next time you think of, smell of or frown at plops of poop, dung, turds, stools, excrement, stop wiggling your nose in contempt. Unless it's a bird dropping right on your hat or car, the poop might have a better message for posterity.
Like Wanchai noted well, "It might be just plain dung to most but to me every time a ball drops it is another opportunity to help them – one man's or elephant's trash is another's treasure – where there is muck there is money'."
Meanwhile, we are already hearing of zoos like one in Syracuse, NY trying to make electricity from the endless piles of elephant dung they collect.
Isn't that like….Shit!