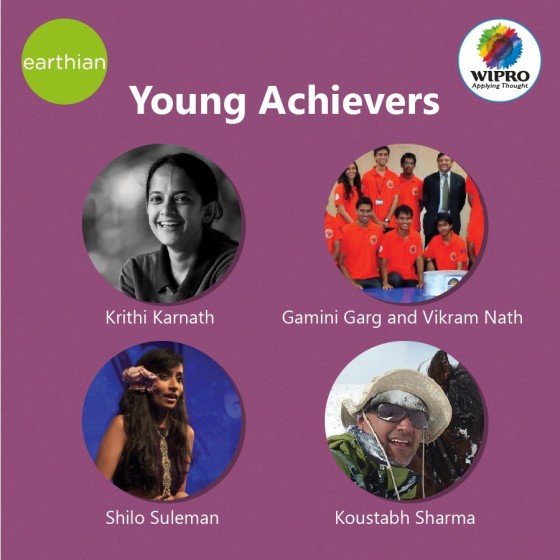 – Srinivas R
"What can we say when elders throw garbage into the pond thus polluting it?"

"What does our ancient texts prescribe on  water conservation?"

"Why has Wipro selected 'Water' as a theme for its Earthian initiative?
These are some of the questions raised by school kids, who were winners of Earthian 2014 award initaited by Wipro Ltd, to Azim Premji during the interactive session.
Wipro Ltd., on Saturday, felicitated 23 winners of the fourth edition of the Earthian contest, with 'Water in our School' as its theme, was
held in Bangalore. More than 500 schools and colleges had participated in the global sustainability education programme. An independent jury selected the final 23 winners who are from different states of India.
"Water is extremely critical. Unless we address the water problem – in reality terms we might have to evacuate Bengaluru within next ten years. It is as serious as that in our major cities," Azim Premji said while responding to a question from school children.
On being asked why cities suffer from acute water problems despite an educated population, Azim Premji in a lighter vein said, "People of the city are educated on wrong things."
When a kid queried as to what should be done to get results out of meetings held on climate change issues, Premji said a person who is attending such conference should be empowered and given the authority to say yes or no."We should empower a person who is attending such conferences. In many of the conferences we attend, we are not giving a person authority to say or no – This rips the whole issue and bring things back from where we started," he stated.
Man behind the Earthian initiative, Anurag Behar, Chief Sustainability Officer, Wipro Ltd. Said, "Every year, Earthian encourages more institutions, teachers and students to participate." This programme is tailored into three segments of activities aimed at building skills, attitudes and values to shape a sustainable future, he said. The company plans to engage with the Earthian awardees over a continued period and help integrate sustainability education in a holistic way, involving institutions, teachers and students. "We hope that Earthian participants educate their surroundings and villages this taking this initiative even further and bring positive change."
The event is a culmination of Wipro's Earthian project that unites the student community and educators with Wipro and its partners in the endeavor towards a sustainable life.