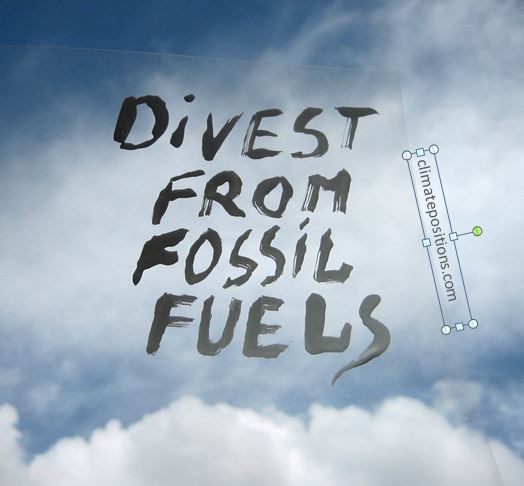 — Claus Andersen
The estimated reserves of oil, gas and coal underground will, if extracted and burned, release 3,700-7,100 Gigatons CO2 (billion tons). However, only 550-1,270 Gigatons CO2 can be burned before 2050, since the United Nations has decided (!?) to keep the rise in temperature below 2°C. If the
UN plan is followed, then only 8%-34% of the estimated reserves can be extracted and burned over the next 40 years. Many scientists believe that this assessment is overly optimistic. Subject to uncertainties, this is the basic challenge faced by the world leaders, the Fossil Fuel Companies and mankind. Given the huge investment costs of search and extraction of Fossil Fuels one would expect the search to fade out, but this doesn't seem to be the case.
'The Carbon Underground 200' has identified the 100 largest public coal companies, and the 100 largest public oil and gas companies, based on estimates of the potential CO2 Emissions. In 2013 the total reported fossil fuel reserves of the 200 companies would, if extracted and burned, release 546 Gigatons of CO2 – and the reported volume has increased by 8.4% since 2010. The 200 Fossil Fuel Companies are listed below with the largest CO2-pollution potential first. Note that the 200 companies are publicly traded (investable) and only represent a small portion (17% has been suggested) of the "proven" fossil fuel reserves worldwide. The remaining reserves are considered less regulated and reported.
Since the "proven" reserves of fossil fuel, when burned, far exceed the volume of CO2 the earth can endure the next 40 years, one can conclude that investments in Fossil Fuel Companies are, either: 1) Unprofitable, or: 2) Morally shady. If you compare the listed Fossil Fuel Companies with the Climate Contributions per capita of their country of origin, you will find numerous climate-destructive alliances. An international campaign started by '350.org' wisely argues for divestment from Fossil Fuel Companies – the focus of the campaign is pension funds, foundations, universities, insurance companies, etc.
Here's how the list looks like:
_______________________________________________________
| | | | | |
| --- | --- | --- | --- | --- |
| | | Gigatons | Oil & Gas | Coal |
| | Public Fossil Fuel Companies | CO2 | Rank | Rank |
| |  . | | | |
| 1 | Coal India Limited | 57.72 | | 1 |
| 2 | Gazprom | 43.54 | 1 | |
| 3 | Shenhua Group | 31.52 | | 2 |
| 4 | Adani Enterprises Ltd | 25.38 | | 3 |
| 5 | Shanxi Coking Coal | 18.45 | | 4 |
| 6 | BHP Billiton | 14.37 |  24 | 5 |
| 7 | Anglo American plc | 12.99 | | 6 |
| 8 | Inner Mongolia Yitai Coal | 12.22 | | 7 |
| 9 | Datang International PG | 12.21 | | 8 |
| 10 | China National Coal | 12.07 | | 9 |
| 11 | Rosneft | 12.04 | 2 | |
| 12 | Peabody Energy | 11.47 | | 10 |
| 13 | Glencore Xstrata | 10.45 | | 11 |
| 14 | Datong Coal Mine | 10.28 | | 12 |
| 15 | Yanzhou Coal Mining | 9.80 | | 13 |
| 16 | Public Power | 9.34 | | 14 |
| 17 | Exxaro Resources | 8.79 | | 15 |
| 18 | PetroChina | 8.58 | 3 | |
| 19 | ExxonMobil | 8.18 | 4 | |
| 20 | Yangquan Coal Industry | 7.30 | | 16 |
| 21 | Lukoil | 6.95 | 5 | |
| 22 | Mechel | 6.74 | | 17 |
| 23 | Arch Coal | 6.53 | | 18 |
| 24 | BP | 6.40 | 6 | |
| 25 | Alpha Natural Resources | 5.48 | | 19 |
| 26 | Petrobras | 5.35 | 7 | |
| 27 | Mitsubishi | 4.74 | | 20 |
| 28 | Royal Dutch Shell | 4.47 | 8 | |
| 29 | Vale | 4.40 | | 21 |
| 30 | Rio Tinto | 4.34 | | 22 |
| 31 | Evraz | 4.24 | | 23 |
| 32 | Chevron | 4.14 | 9 | |
| 33 | Raspadskaya | 4.08 | | 24 |
| 34 | Total | 3.81 | 10 | |
| 35 | Novatek | 3.78 | 11 | |
| 36 | Asian Ressource Minerals | 3.18 | | 25 |
| 37 | UC RUCAL | 3.08 | | 26 |
| 38 | Neyveli Lignite | 3.04 | | 27 |
| 39 | Pingdingshan Tianan Coal | 3.02 | | 28 |
| 40 | Cloud Peak Energy | 2.88 | | 29 |
| 41 | Sasol | 2.82 |  89 | 30 |
| 42 | ConocoPhillips | 2.73 | 12 | |
| 43 | Severstal | 2.73 | | 31 |
| 44 | AGL Energy | 2.70 | | 32 |
| 45 | Tatneft | 2.69 | 13 | |
| 46 | Tata Steel | 2.68 | | 33 |
| 47 | Teck Resources | 2.60 | | 34 |
| 48 | ENI | 2.56 | 14 | |
| 49 | Kuzbass Fuel | 2.50 | | 35 |
| 50 | Polynus Gold | 2.29 | | 36 |
| 51 | Energy Ventures | 2.18 | | 37 |
| 52 | ONGC | 2.15 | 15 | |
| 53 | Consol Energy | 2.11 | 59 | 41 |
| 54 | RWE | 2.09 |  73 | 40 |
| 55 | Whitehaven Coal | 2.06 | | 38 |
| 56 | Banpu Minerals | 2.04 | |  39 |
| 57 | Statoil | 1.94 |  16 | |
| 58 | Washington H Soul Pattison | 1.85 | | 42 |
| 59 | Resource Generation | 1.82 | | 43 |
| 60 | PT Bayan Resources | 1.81 | | 44 |
| 61 | Churchill Mining | 1.75 | | 45 |
| 62 | NTPC | 1.74 | | 46 |
| 63 | PT Adaro Indonesia | 1.61 | | 47 |
| 64 | Sinopec | 1.57 | 17 | |
| 65 | Nacco Industries | 1.56 | | 48 |
| 66 | Idemitsu Kosan | 1.53 | | 49 |
| 67 | CNOOC | 1.52 | 18 | |
| 68 | Alliance Resource Partners | 1.48 | | 50 |
| 69 | Huolinhe Coal | 1.39 | | 51 |
| 70 | Coalspur Mine | 1.38 | | 52 |
| 71 | Mitsui & Co | 1.37 | | 53 |
| 72 | PT Golden Energy Mines | 1.35 | | 54 |
| 73 | Coal of Africa | 1.34 | | 55 |
| 74 | Novolipetsk Iron &Steel | 1.29 | | 56 |
| 75 | BG | 1.26 | 19 | |
| 76 | Occidental | 1.25 | 20 | |
| 77 | Wesfarmers | 1.09 | | 57 |
| 78 | Tata Power | 1.06 | | 58 |
| 79 | Apache | 1.05 | 21 | |
| 80 | Magnitrogorsk Iron & Steel | 1.05 | | 59 |
| 81 | Sherritt International | 1.01 | | 60 |
| 82 | Kazakhmys | 1.00 | | 61 |
| 83 | Canadian Natural Resources | 0.98 | 22 | |
| 84 | New World Resources | 0.97 | | 62 |
| 85 | Anadarko Petroleum | 0.90 | 23 | |
| 86 | Mongolian Mining | 0.90 | | 63 |
| 87 | Devon Energy | 0.89 | 25 | |
| 88 | Chesapeake Energy | 0.89 | 26 |  64 |
| 89 | Itochu | 0.88 | | |
| 90 | Bashneft | 0.88 |  27 | 65 |
| | | | | |
| 91 | Westmoreland | 0.86 | | |
| 92 | Cockatoo Coal | 0.85 | | 66 |
| 93 | Meijin Energy | 0.78 | | 67 |
| 94 | Inpex | 0.76 | 28 | |
| 95 | Jizhong Energy Resources | 0.74 | | 68 |
| 96 | Ecopetrol | 0.74 | 29 | |
| 97 | Bandanna Energy | 0.73 | | 69 |
| 98 | Polo Resources | 0.73 | | 70 |
| 99 | Allete | 0.72 | | 71 |
| 100 | CLP Holdings of Hong Kong | 0.70 | | 72 |
| 101 | Aspire Mining | 0.67 | | 73 |
| 102 | EOG Resources | 0.65 | 30 | |
| 103 | Walter Energy | 0.64 | | 74 |
| 104 | Suncor Energy | 0.64 | 31 | |
| 105 | Aquila Resources | 0.63 | | 75 |
| 106 | Marathon Oil | 0.62 | 32 | |
| 107 | Coal Energy | 0.61 | | 76 |
| 108 | Hess | 0.61 | 33 | |
| 109 | Imperial Oil | 0.59 | 34 | |
| 110 | Encana | 0.57 | 35 | |
| 111 | China Resources Power | 0.57 | | 77 |
| 112 | Energi Mega Persada | 0.56 | 36 | |
| 113 | PT Indika Inti | 0.49 | | 78 |
| 114 | ArcelorMittal | 0.46 | | 79 |
| 115 | First Energy | 0.46 | | 80 |
| 116 | BASF | 0.45 | 37 | |
| 117 | Repsol | 0.45 | 38 | |
| 118 | Black Hills Power | 0.43 | | 81 |
| 119 | Wescoal Holdings | 0.43 | | 82 |
| 120 | Grupo Mexico SA de CV | 0.42 | | 83 |
| 121 | OMV | 0.41 | 39 | |
| 122 | Noble Energy | 0.41 | 40 | |
| 123 | Woodside Petroleum | 0.39 | 41 | |
| 124 | Pioneer Natural Resources | 0.39 | 42 | |
| 125 | Linn Energy | 0.38 | 43 | |
| 126 | African Rainbow minerals | 0.38 | | 84 |
| 127 | Shanxi Coal I&E | 0.38 | | 85 |
| 128 | Capital Power | 0.37 | | 86 |
| 129 | Cenovus Energy | 0.36 | 44 | |
| 130 | PTT Public | 0.36 | | 87 |
| 131 | YPF | 0.36 | 45 | |
| 132 | Range Resources | 0.35 | 46 | |
| 133 | PTT | 0.34 | 47 | |
| 134 | Lanhua | 0.34 | | 88 |
| 135 | Husky Energy | 0.33 | 48 | |
| 136 | Fortune Minerals | 0.33 | | 89 |
| 137 | EQT | 0.33 | 49 | |
| 138 | Cardero Resources | 0.32 | | 90 |
| 139 | Zengzhou Coal Ind & EP | 0.32 | | 91 |
| 140 | Continental Resources | 0.31 | 50 | |
| 141 | Talisman Energy | 0.31 | 51 | |
| 142 | Steel Authority of India | 0.31 | | 92 |
| 143 | Jindal Steel & Power | 0.30 | | 93 |
| 144 | Shougang Fushan Resources | 0.30 | | 94 |
| 145 | KazMunaiGas EP JSC | 0.30 | 52 | |
| 146 | Jingyuan Coal | 0.30 | | 95 |
| 147 | Stanmore Coal | 0.29 | | 96 |
| 148 | Prophecy coal | 0.27 | | 97 |
| 149 | JX Holdings | 0.27 | 53 | |
| 150 | Marubeni | 0.27 | | 98 |
| 151 | WPX Energy | 0.26 | 54 | |
| 152 | Cliffs Natural Resources | 0.25 | | 99 |
| 153 | NSSMC | 0.24 | | 100 |
| | Santos | 0.24 | 55 | |
| | SK Innovation | 0.23 | 56 | |
| | QEP Resources | 0.22 | 57 | |
| | Southwestern Energy | 0.22 | 58 | |
| | Consol Energy | 0.22 | 59 | |
| | Cabot Oil&Gas | 0.21 | 60 | |
| | SandRidge Energy | 0.21 | 61 | |
| | Newfield Exploration | 0.21 | 62 | |
| | Murphy Oil | 0.21 | 63 | |
| | Dragon Oil | 0.20 | 64 | |
| | FreePort-McMoRan | 0.18 | 65 | |
| | Maersk Group | 0.17 | 66 | |
| | Concho Resources | 0.17 | 67 | |
| | Ultra Petroleum | 0.17 | 68 | |
| | Denbury Resources | 0.17 | 69 | |
| | GDF SUEZ | 0.16 | 70 | |
| | MEG Energy | 0.16 | 71 | |
| | Whiting Petroleum | 0.15 | 72 | |
| | RWE | 0.15 | 73 | |
| | MOL | 0.15 | 74 | |
| | Crescent Point Energy | 0.15 | 75 | |
| | Polish Oil & Gas | 0.14 | 76 | |
| | Mitsui | 0.14 | 77 | |
| | Penn West Petroleum | 0.14 | 78 | |
| | Pacific Rubiales Energy | 0.13 | 79 | |
| | Oil India | 0.13 | 80 | |
| | Climarex Energy | 0.13 | 81 | |
| | Energen | 0.13 | 82 | |
| | TAQA | 0.12 | 83 | |
| | Oil Search | 0.12 | 84 | |
| | ARC Resources | 0.11 | 85 | |
| | Canadian Oil Sands | 0.11 | 86 | |
| | Genel Energy | 0.11 | 87 | |
| | SM Energy | 0.10 | 88 | |
| | Sasol | 0.09 | 89 | |
| | National Fuel Gas | 0.09 | 90 | |
| | Tullow Oil | 0.09 | 91 | |
| | Pengrowth Energy | 0.09 | 92 | |
| | Xcite Energy | 0.09 | 93 | |
| | Vermillion Energy | 0.08 | 94 | |
| | Peyto E&D | 0.08 | 95 | |
| | Quicksilver Resources | 0.08 | 96 | |
| | Petroceltic International | 0.08 | 97 | |
| | Forest Oil | 0.08 | 98 | |
| | Tourmaline Oil | 0.07 | 99 | |
| | Bonavista Energy | 0.07 | 100 | |
_______________________________________________________
Source on global fossil fuel reserves: http://www.information.dk/493653 (refer to a draft from IPCC Working Group 3: http://mitigation2014.org/report/final-draft/
Carbon Tracker (identifying risk projects in the oil, coal and gas sectors):

http://www.carbontracker.org/

 
Common Questions about Divesting Your Finances: 
http://gofossilfree.org/common-concerns-about-divesting-your-finances/
––
The analysis and contentions made in the post are by the author. This post has been originally published on www.climatepositions.com