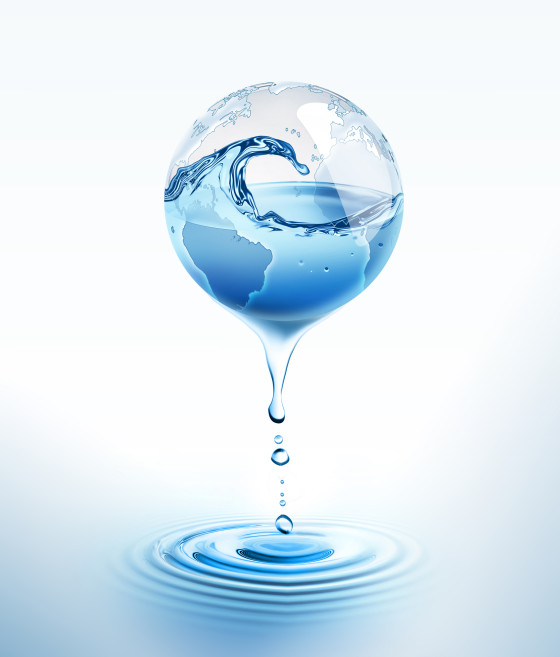 Few years back, the picturesque city of Auraganbad hit national headlines for all the wrong reasons, and caused a small tremor in a many a boardrooms. The city renowned as a tourist locale merci, Ajanta & Ellora caves, was going dry and it was not the citizens only who were going thirsty. Over the past few decades the city, because of its location and connectivity had become a hub of industrial activity, with scores of factories being set
up. The urbanisation was good for the people and the industry. Result, lot of foreign firms eagerly set up plant here, especially beer companies. There were over four distilleries and some six odd breweries, churning out Heineken, Budweiser, Carlsberg SAB Miller and other beers.  But when the city went dry, the government clamped on the water supply. And the industrial activity in the city came to an almost grinding stop. Water, the commodity, that almost every took for granted, had become a primary factor.
The Aurangabad incident almost became a fable in company boardrooms, with senior management scrambling to understand the severity of the issue, map the supply and put the contingency plan in place… if not to preserve water, at least for the sake of better profits and for fear of having operations shut down. Water is often termed as a life saver and life giver, but with the per capita of water decreasing at a rapid pace, one often questions the role of governments, societies and organizations and the methodologies to preserve and water.
While it is true that water covers 71% of the earth's surface, only one percent of all fresh water is available for use. And hence, when the Carlsberg brewery in Aurangabad had its water supply cut off in 2013, due to the extraordinary drought situation in the region, it was no surprise. In another instance where environmental norms play the classic game of catch and cook and have its final say, an affordable housing project in Vasind near Shahpur by Tatas, was scraped for want of environmental clearances. The most basic amenity of any residential project is water supply. Boisar being a developing suburb, securing approvals for infrastructure amenities is a challenge.
In 2005, a Coca-Cola plant in Kerala not only used excessive amounts of water but contaminated the area's groundwater, resulting in a campaign by local residents and authorities to close the facility. Water scarcity isn't just a prophecy any more, it's a reality.  And to make its stance clear, the Indian government declared the year 2013 as, "Water conservation year".
Prime Minister Narendra Modi too has laid special emphasis on water, as he has pitched for improving farm productivity and water conservation and asked states to stress on improving water conservation.  Water has also become a political issue with the likes of AAP party in power in Delhi, offering it as a freebie to the denizens of Delhi and then subsequently raising the price of water.
While it seems as if government authorities have taken cognisance of environmental crimes, how has this vigilance and motivation pushed the corporate sector to act before it's too late? Honestly, a number of companies have undertaken water stewardship as a part of their sustainability goals. Business risks around water are now entering the boardroom and owing to the imminent water crisis, organizations have been pushed to rethink their business modules. While water conservation is being done at a CSR level, implementation of water efficient practices are now being carried out within an organization. Corporations are now addressing the concerns and possibilities of water shortage and water pollution in their sustainability goals. Hindalco for example is striving to attain zero effluent discharge status. Industrial and domestic effluent in all plants, are being treated in line with the local pollution control board's guidelines.  Godrej intends to reduce the overall consumption of water by 2% over a period of 10 years. The company has undertaken various initiatives in keeping with its philosophy, Reduce, Treat, Recycle and Harvest. Bajaj Auto Ltd, has been able to save 50 per cent water during summer by adopting various water conservation drives guided by the principle of the 3 Rs: (Reduce, Reuse, Recycle). And while these may seem like exemplary modules, companies haven't gone beyond rain water harvesting and treatment of water.
Abbott Laboratories is a leading global health care company and has introduced a slew of water saving technologies to its facilities has helped the company save roughly one billion gallons a year despite production growth at many of its plants. They have implemented a leak Tag program aimed at identifying and fixing leaks, in addition to the installation of efficient fixtures and low use landscaping. Other methods include efficient irrigation systems, cooling towers and fittings. Installations such as efficient water scrubbers have been put in place to treat dust emissions.  From leak audits and water conservation programs to storm water management and aquifer recharge projects, Kraft foods has gone all out to insure they reduce water consumption while improving the overall quality and sustainability of surface and ground water resources. The exemplary efforts of these global companies are not only pushing India into the rut of underdevelopment, but have showcased their desire and will, to care for the cause of water conservation.
And while, the government and the corporates are doing their bit, on a personal level, someone like Aabid Surti, has started a one-man organisation to save water.  He has been personally going from home to home fixing leaking faucets and taps, thereby saving millions of gallons of water.
In the end, it is imperative that saving water is not a choice anymore. From government, corporates to the individuals, everyone has to play a part in saving the precious resource.