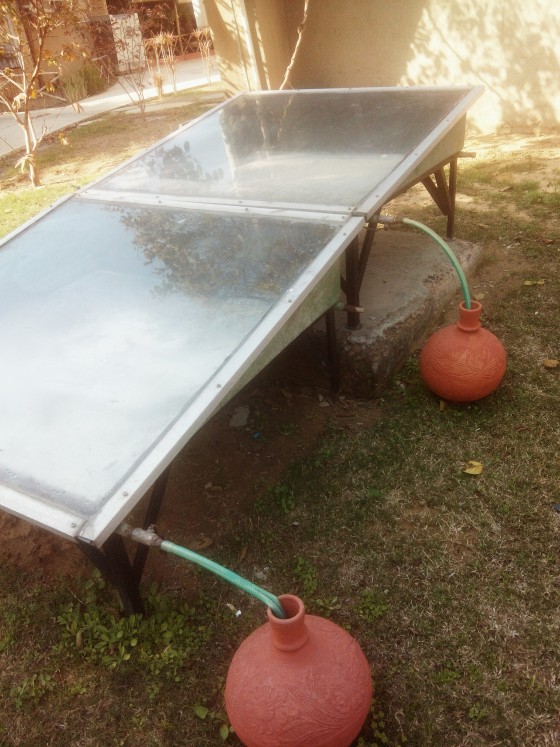 – Shashwat DC
While, we as Indians are much aware and sensitised about the need and potential of solar energy, there are hardly any places that
we actually come across solar solutions at work. Solar Panels are often hooked up on rooftops, away from the glare or are installed on pieces of land that are designated as wasteland. Thus in a manner, the solar energy solutions are too bulky and too complex to be comprehended in our everyday lives. They are meant to be a panacea for all our energy ills, except that, we are not too sure of how this panacea works.
But, what if the complexity could be reduced? What if, these solar panels could be discretely brought into our everyday setting, without jutting out like a sore thumb? What if, we could see the power and utility of the same in our daily practical guide? After all things like sustainability and renewable energy are for educated engineers, not for a lay man, right?
Wrong!  It really isn't so, if you drop by for a meal at Cafe Roots in Gurgaon. This motley restaurant located inside the Rajiv Gandhi Renewable Energy Park (RGREP) is a brilliant example of making sustainability seem practical, simple and worth our while. With most of its systems (apparently all, but I could not get it confirmed) run on power generated by solar panels. There are no fans at the place, every  One can see these solar panels installed all over the place aesthetically. Within close proximity, is a resource centre, where you can find some details on renewable energy, waste management, water conservation, etc. The place is run by a Not For Profit, called Advit.
The ambiance of the place is truly riveting. There is an element of rustic ruralism in the whole feel, with a thatched bamboo hut, wooden chairs, clay pots, and yellow lamps. There is an open seating area too, where you can sit and eat under the shade of the tree, with a few stray birds chirping around you.
The food at the place is pretty simple, with things like poha, and other stuff. The only non-veg thing on the menu is eggs, and you have interesting dish names like Kejriwal Sandwich (which is simply 2 pieces of bread clumped with egg), railway masala omlette sandwich and so on. They serve lunch kind of stuff post 12 noon, wherein they include things like Wai Wai Bhel, Moong Dal Khichdi, and Pasta Monay. A recent addition is the Nepali Thali (pictured herein) which has an interesting bread made from maida and beetroot. There is also a solar cooked kheer on the menu, but apparently it is no great jigs.
Presentation of food is unique too, they first provide you a menu card in a jute jacket, accompanied with a small notepad and a pen to note your orders. The food is served on ceramic plates, and bowls. While drinks like nimbu-paani and rest are served in reused glass jars that
come along jams and pickles. That's a great idea for reuse and recycling.
But like every good thing has a blemish this one has too. First, quite like the food, the service is pretty slow and relaxed, not the kind that you appreciate when on a lunch-break between work. Second and most importantly, there is no one out there who can provide information or knowledge about the renewable energy and how it is used. I roamed around the cafe, admiring panels distilling water and asking for people who could explain things for me, but sadly there was none. Also, there is little or no information available online about the restaurant and its usage of renewable energy. There are plenty of reviews of the restaurants on various sites, but there is precious little on how much power is generated through the panels, how much is consumed and how, things like that. There is no FB page or a dedicated website for the restaurant, and that is such a shame.
Sustainable restaurants are a big thing abroad. Entrepreneurs have been able to craft for themselves a special niche in this domain. The difference is, that when it comes to sustainability abroad, they examine the complete lifecycle impact, right from where the food is sourced to how the waste is composted. While energy consumption is still a big negative aspect in restaurant business. One has to look at the entire lifecycle, and not things in a silo. In fact, there are awards for best sustainable restaurants based on the practices and some of them even publish a sustainability report. Take a look at the TED talk by Arthur Potts Dawson, who creates such amazing places. In this video herein, he states, "Everything in nature is used up in a closed continuous cycle with waste being the end of the beginning, and that's been something
that's been nurturing me for some time, and it's an important statement to understand. If we don't stand up and make a difference and think about sustainable food, think about the sustainable nature of it, then we may fail."
In comparison to these path-breaking international ventures, Cafe Roots is a very small one. There is much that can still be done in terms of engagement and information dissemination. But yes, it is a good and heartening beginning. The cafe simplifies solar energy for us, rather than all those mega panels that create GWs of energy, we have a simple one here making a tasty little kheer. We need more such roots to dig within the system and bring about a change. In that regards, this little place has got its heart in the right place. So, don't forget to visit this place and be rooted for a while. And yes, don't be in a hurry, when you get there, cause nature never is.
Location: Sector 29, Rajiv Gandhi Renewable Energy Park, Leisure Valley, Sector 29, Gurgaon