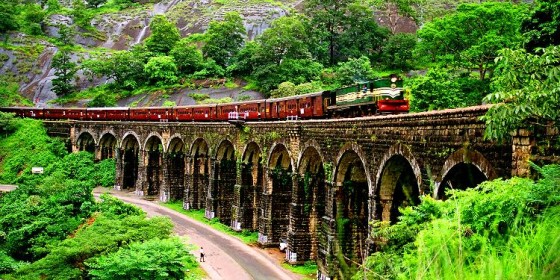 — Pratima H
We may still be some years away before we start showing off something similar to those self-closing toilet lids that airlines have started flying high with. Just a few weeks back the aviation world was gaga about auto-close lids seen on a new Boeing 787 Dreamliner and it will be quite a while before train passengers (lesser mortals after all) can start enjoying the spiffy convenience of a high-luxury toilet seat, but till then there's some good odor to enjoy from the Rail Budget.
17,000 more toilets will be replaced by bio-toilets! Yes, and Rail Minister Suresh Prabhu was also heard today saying that cleanliness is going to turn into a major initiative and the Ministry will engage private agencies & set up waste-to-energy conversion plants too. The ministry seems keen on increasing bio-toilets in sufficient numbers in trains to mitigate the problem of direct discharge of human waste on the tracks and platforms.
There was in addition, a mention of harnessing solar energy by utilizing roof top spaces of stations, railway buildings and land including through PPP mode. And use of bio-diesel up to five per cent of total diesel fuel consumption.
The Budget highlights, among other things, showed plans of outsourcing of cleaning activities at 50 major stations to professional agencies; setting up of separate Housekeeping Wing for maintaining cleanliness and sanitation at stations; extending use of CCTVs at stations to monitor cleanliness activities and a substantial increase of 40 per cent in budget allocation for cleanliness.
We also spotted plans on battery operated cars for differently-abled and senior citizens at platforms of all major stations. Industry watchers have also been speculating on 59,000 coaches to be converted into vacuum toilet, the same technology that's aboard on air planes as cleanliness of stations remains a major thrust of 'swachh' (clean) railways.
It is also being guessed that 2016 onwards, only those bio-toilet fitted Linke Hofmann Busch (LHB) coaches will be rolled out.
All well-intended and well-timed goals as they are, in all fairness; the question now, is of course, how soon and how well?
Bio-Toilets: The track so far
It was perhaps the Gwalior-Varanasi Bundelkhand Express that was the first one fitted with bio-toilets is running since January 2011 and
there were some 57 bio-toilets fitted  in the year 2010-11, 169 in 2011-12 and 1337 bio-toilets fitted in 2012-13. Around 2013, Indian Railways was found running 1400 coaches with 3800 bio-toilets in various trains. At the last count in April 2014, Railways apparently picked up speed on the work of fitting bio-toilets in coaches with over 2,000 coaches installed. In fact, Indian Railways is now manufacturing all new conventional passenger coaches fitted with bio-toilets.
The thrust on bio-toilets matters all the more for Indian Railways as it has always struggled with manual scavenging, waste on tracks and corrosion that can cost railways over average Rs 350 crore every year.
These bio-toilets work well as they are fitted below the coach floor underneath the lavatories and the human waste discharged into them. The waste is worked upon by some anaerobic bacteria which are experts in converting human waste mainly into water and small amount of gases (methane and CO2), which by the way, are excreted into atmosphere while the waste is discharged after chlorination onto the track.
The result – Human waste no more falls on the railway track with bio-toilets aboard and besides being a bio-friendly approach, the mechanism also eases the working condition for the railway track staff.
Toilets – Then and Now; Below and 30,000 feet up
Think of aircraft lavatories and it's hard to imagine that years back they also used slop buckets or conventional Siphon toilets (that relied on a water-filled bowl to help initiate the passive suction effect for drainage) or that WWII pilots used to toss piss-filled bottles out of windows or the Anotec, the blue deodorizing liquid of the '80s. But then aircrafts were not pressurized inside and there were fewer complaints of blue-ice shit-balls dropping from sky and smashing a car (or a skull).
Things have changed with modern airborne waste control technology actively powered evacuation systems, thanks to James Kemper who patented the vacuum toilets that are in wide use now.
These vacuum toilets work through suction walls and slick boundaries that pull waste away using minimal water and when the flush button is pushed, it opens a valve in the bottom of the bowl, exposing the contents to a pneumatic vacuum which swallows quickly the load down the plane's sewer line into a huge holding tank which is later offloaded by on-ground crews.
Composting toilets are not a new thingamajig. They just play on the natural processes of decomposition and evaporation to recycle human waste. The basic premise is that waste entering the toilets is over 90% water, and it can be evaporated and carried back to the atmosphere through the vent system. Now whatever small amount of solid material remains, it can be converted to useful fertilizing soil by natural decomposition.
All that is required is tweaking the environment in the composting chamber and managing a fine balance between oxygen, moisture, heat and organic material so that aerobic bacteria that transform the waste into fertilizing soil. The result is an odor-free operation and complete decomposition of waste, just what train passengers' need.
A good composting toilet has to fare well on three areas: composting the waste and toilet paper quickly and without odor; ensuring that the finished compost is safe and easy to handle and evaporating the liquid. Something that the Bio-drum, designed by Sun-Mar, pioneers of the composting toilet industry since the 1960's was doing well.
Technology Inside, Waste Outside 
Our Railways have always had a thing for indigenous technologies and that applies to imported goods too. The focus of the Budget and current government on 'Make In India' iterates the thrust on domestic technologies.
So it's no surprise and a bit of pride too to note that this low cost and eco-friendly technology has been developed jointly by Indian Railways and Defence Research & Development Organisation (DRDO) and appears to be the first of its kind in Railway Systems in the world.
It all flushes down to one very specific bacteria which is used in this design of bio-toilet and has been carefully collected and analysed by DRDO from Antarctica.
The system had been tested by DRDO in extreme climates and conditions, example at Siachen Glacier and it was found that the anaerobic bacteria in the bio-designer easily survive extreme cold and heat as well as commonly available disinfectants.
The system essentially degrades and converts the human waste into usable water and gasses in an eco-friendly manner, whereby, the resultant generated gas can be utilized for energy, and water for irrigation purposes. The bacteria also feed upon the fecal matter inside the tank, and degrade the matter and releases methane gas that can be used for cooking, along with the treated water.
However during the early period of inception, some IIT-Kanpur scientists vented their skepticism about the technology per se arguing that these toilets were neither environment-friendly nor suitable for trains. IIT-Kanpur claimed to have studied the toilets when they were put on trial and highlighted that there is no magic bacteria that can treat waste fast enough for use in a train toilet, especially in a short window of time and that untreated waste would be expelled at different levels and will end up on tracks eventually. They also cited a zero discharge toilet that the railways tried but rejected and that was developed by IIT-Kanpur and the Research Design and Standards Organization.
That is when railways officials had insisted on having fixed the problems with use of a stronger bacterium and other methods with the system, specially the drawbacks that IIT-Kanpur had reminded.
So far, the ministry maintains that the technology is effective but it also seeks co-operation from passengers, at least the behavior and hygiene that aircraft passengers are expected with.  Indian Railways has been seeking cooperation of their valued customers for success of this project as throwing of items like plastic bottles, paper cups, cloth rags, sanitary napkin, nappies, plastic/poly bags, with Gutka pouches etc causes choking of these toilets and making the toilet non functional. Passengers' cooperation is of paramount importance for the success of these bio-toilets, the Ministry has noted.
As long as they do not use the toilet pan as a garbage bin, the Bio-digester technology that has been developed by Gwalior-based Defence Research and Development Establishment (DRDE) and Tezpur based Defence Research Laboratory (DRL) seems to work well.
DRDO has also been working on ways to avoid choking of toilets in Indian Railways thanks to passengers throwing non-biodegradable plastics, like bottles, and for this a special lid has been constructed that works when the flap opens and the bottles fall on the track so that the excreta enters through a separate opening into the digester tank.
Meanwhile, an 'eco-vapor' toilet system is being tested in India which entails use of a breathable fabric that traps human waste and allows only water vapor molecules to escape, something that is used in sportswear and raincoats so far. It makes sewage less hospitable to bacteria and other disease-causing organisms.
This is what a team of researchers under Steven K Dentel, professor of civil and environmental engineering at the University of Delaware in the US, is working towards.
Red Flags and Potholes
The challenges that await and interrupt the journey are multi-pronged. First, fitment issues with these bio-toilets in coaches as this calls for a special technique of wielding that is also safety-friendly for the coach.
Overall, Railways as an entity too is self-confessedly struggling with many issues. It is expected to earn like a commercial enterprise but serve like a welfare organization.
This becomes an acute situation when we see that tariff policy adopted has lacked rational approach; passenger fares kept lower than costs; loss per passenger kilometer has increased from 10 Paise per Km in 2000-01 to 23 Paise in 2012-13.
The organization is mired in a 'Decade of Golden Dilemma' as it itself tags, stuck inside choosing between commercial and social viability. The share of Railways in freight traffic has come down consistently and some Rs 5 lakh crore are required for ongoing projects alone.
However, the ministry also talks of works to be re-prioritized with more focus on doubling and tripling to decongest the over-utilized network and recent fare and tariff hikes are expected to mop additional revenue of about ` 8,000 crore, with alternate resource mobilization, pursuing Public Private Partnerships also expected to contribute their bits. The Budget also laid policy of involvement of individuals, NGOs, Trusts, Charitable Institutions, Corporates to provide passenger amenities at stations as well as aggressive indigenization of imported products.
What strikes the fate of new projects like bio-toilets the most is that of the 674 projects worth Rs 1,57,883 cr sanctioned in the last 30 years, only 317 could be completed.
Completing the balance requires Rs 1,82,000 cr. At this junction, no matter how lofty plans of eco-friendly initiatives seem to sound, the real destination seems only miles away.
And yet, patience is not something that should be flushed right away. Like Railways, it's always good to just keep going.