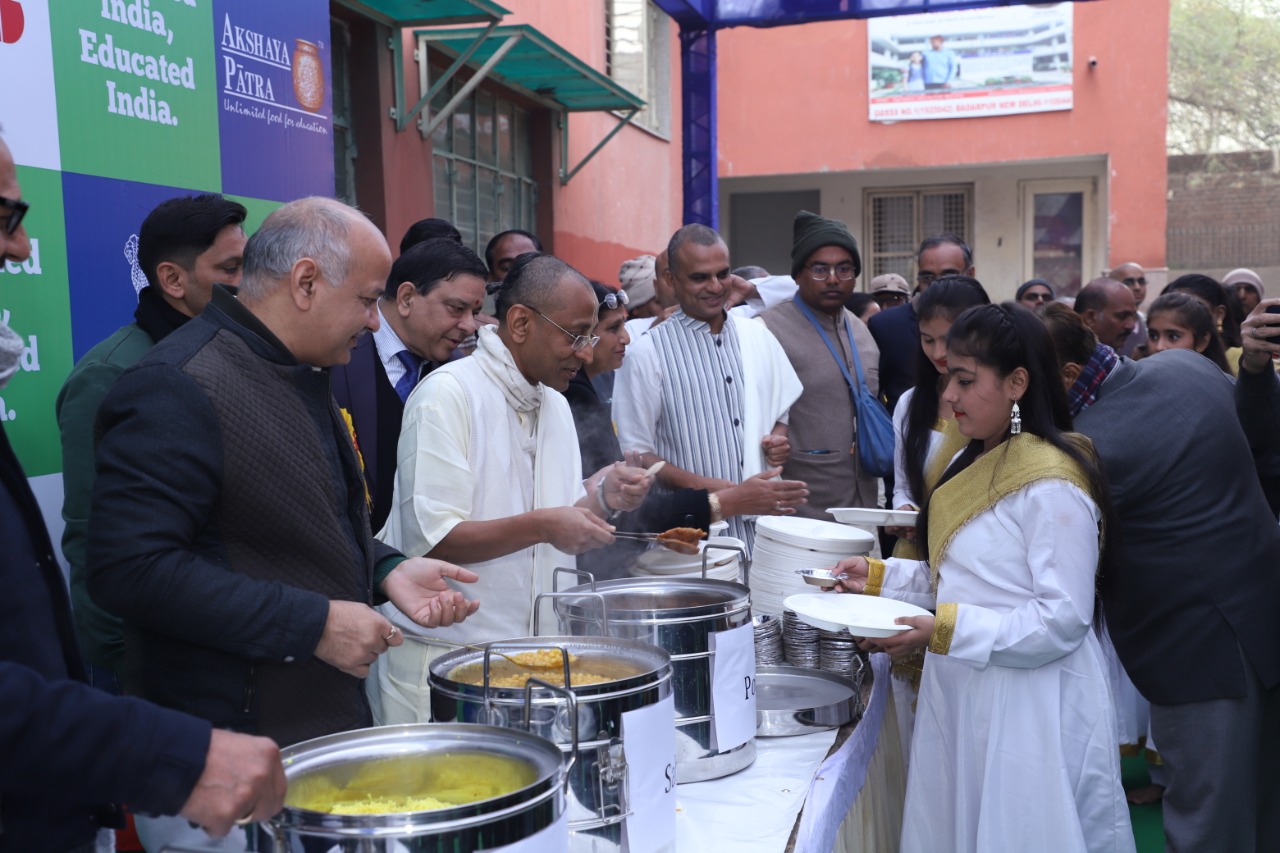 Deputy Chief Minister of Delhi, Manish Sisodia inaugurated The Akshaya Patra Foundation's new centralised kitchen in Mohan Cooperative Industrial Area of New Delhi. The kitchen sponsored by ABB India has the capacity to cater to the nutrition needs of students through 25,000 midday meals across various Government schools in the surrounding areas. Initially, it will serve over 21,000children of 24 Government schools in the national capital and gradually extend its reach. Mohan Cooperative kitchen will be The Akshaya Patra Foundation's 51st kitchen in the country. From January 1st 2020, Akshaya Patra will begin operations in Mohan Cooperative Industrial Area, Jahangir Puri and SamaypurBadli, feeding 64,179 children across 134 schools in the national capital through these three kitchens.
The inauguration event was followed by a school visit and ceremonial serving of meals to the children. The dignitaries present unanimously commended Akshaya Patra for its efforts to address hunger and malnutrition in India through its kitchen network spread across 12 states and 2 union territories. They expressed their support and encouragement for the Foundation's feeding endeavour.ABB India's partnership with Akshaya Patra is over a decade old and has been expanding in line with the mission of Akshaya Patra to feed 5 million children by 2025.
Manish Sisodia highlighted the importance of wholesome meals for all-rounded growth of children. He mentioned that they were happy with the standards maintained at Akshaya Patra kitchens, therefore decided to partner with the organisation. He expressed his delight that after a lot of efforts the kitchen in Delhi has started and now the children will get nutritious and hygienic mid-day meals from Akshaya Patra.
"ABB has been deeply engaged with community development activities over several years positively impacting more than one lakh lives across the country. One of the CSR focal areas for ABB India is "Education and Skill development". Our partnership with Akshaya Patra aligns well with our key theme in social impact projects," said Sanjeev Arora, President, Motion Business, ABB India. "We are privileged to have the opportunity to support nutritious meals in surrounding 24 schools through this state-of-the-art kitchen. When this is fully functional, ABB will support the meals to 21,000 students in the region. A healthy, nutritious meal is a stepping stone to realizing the potential of children, transforming young lives for a better future of the nation," he added.
Over the years, the support by ABB India towards Akshaya Patra has increased many folds from the Mid-Day Meal Programme to supporting a centralized kitchen. The current partnership of ABB India with Akshaya Patra supports around 50,000 meals daily to Government school children across Gujarat, Karnataka and Delhi.
Team SustainabilityZero