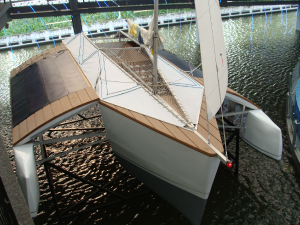 WITH efforts swinging between helplessness and hope, the search for the missing plane incidentally makes us spot a not-so-elusive sight in case we paid notice.
The director of marine debris program of a Oceanic and Atmospheric Administration entity remarked in one plane-search saga that: Unfortunately, there's a lot of debris in the ocean all the time, and it ranges from really teeny-tiny pieces of plastic, up to fishing gear. It can be boats, it can be shipping containers.
Media reports are rife with curiosity and assumptions about the aircraft gone off the grid since March 8 but they happen to bob along decades-old problems on marine negligence that human civilisation has piled up.
Pollution — in the form of debris, toxins and agricultural run-off — is among the most critical problems threatening the future viability of the world's oceans, as indicated by the National Oceanic and Atmospheric Administration (NOAA), that in an effort to explain the acute state of 'marine debris', also demonstrated the Pacific current patterns that promote the accumulation of debris. What really floats high here is the observation that there are no things like islands of trash forming in the middle of the ocean to be seen with satellite or aerial photographs, but on the contrary, small bits of floating plastic, sometimes difficult to gauge from surface level at a boat. That not only compounds the degree of the issue but is enough for validating apprehensions that marine debris is ingested by marine life, and is it is only a matter of time before it hits the entire food chain.
What an irony – world's best technology is being deployed to look for a missing plane and satellites across Australia, Asia and America's radars are probably confronting the not-so-awaited images of pollution-wrecked-debris instead.
No doubt then that NOAA has been urging the 'reduce, reuse and recycle' mindset for all disposal stakeholders, and has iterated the value of making small changes in our  daily life and help to curtail pollution in the oceans and elsewhere.
At the World Ocean Summit problems like overfishing, pollution and greenhouse gas emissions were highlighted.
Salvaging the dire reality in a tiny form are some design firms that are making 'stylish' efforts in using plastic and stretching its lifecycle much after it is presumed to be done-with.
Take a look at the boat designed by the company Miniwiz. Fondly named POLLI BOAT, this appears to be the world's first trimaran inspired by the 3R practices-Reduce, Reuse, and Recycle. It is designed and engineered by Miniwiz S.E.D., and made of recycled materials like a newly developed green material WPC (wood-plastic composite) that replaces traditional FRP (Fiber Reinforced Plastic), an unrecyclable and toxic material.
This illustrates the clever and a suave-looking use of waste canvas as decking. Its renewable energy systems are powered by both solar and wind, can be interchangeable depending on weather conditions.
The boat made its debut in 2011,  at the EcoARK, the world's first green architecture made from recycled plastic bottles to complement the World Month event host by National Geographic Channel and its sailing ceremony iterates the purpose to raise the awareness of sustainable oceanic issues.
Another one from Miniwiz's kitty is the the Shanghai Pier 16 Project including three structures and covered by a facade made from Polli-Bricks based on the design of a boat.  
This reflects in the interiors of the building and the ceiling panels made from Polli-Ber covering the ceiling of the bookstore. The integration of recycled pc sheets into the lighting systems built into the ceilings is noteworthy.
The company is also known for a Nikevenue that showcased a canopy suspended from two cranes.The entire canopy was fashioned from recycled PET and shelters an area of 2000 square meters weighing a mere 900kg. The Nike Feather Pavilion is an example of walls made of recycled PET derived from plastic bottles, use of recycled materials in the canopy shading surface and structure. The loom like strings were made from Rice Fiber (what the company calls a 100% recycled super-strength PET yarn reinforced with RICE (Wheat) Husk nano silicone dioxide with a triangular light reflective filament cross section.  Another example is the the EcoARK Pavilion located in Taipei, world's first fully functional, nine-storey, public structure built out of 1.5 million recycled plastic bottles.
Now that the company is boarding boats, it would be nice to see more such initiatives, more supply, more demand and more efforts from all sides – architects, designers, manufacturers, traders, sellers and customers. Some day our rivers and oceans would be swimming with plastic in a new, less-unpleasant shape.
Hopefully!